0 Székesfehérvár, Ipoly utca 126
Hungary LED Screen Supplier
Main Product: Fixed LED screen / Rental LED screen
Website: https://ledtrio.hu/
Tel. no: 36 70 602 7773
Email: ateledfalad@gmail.com
Ledtrio is a cutting-edge company specializing in LED wall and video wall creation, changing the way brands interact and engage consumers with their visually appealing LED displays. They are committed to providing businesses with creative advertising that will bring long-term benefits to the company.
As a pioneer in LED technology, Ledtrio continues to drive innovation and provide companies with the tools to stand out in a competitive environment. Ledtrio's LED walls are designed to provide an immersive and engaging visual experience for any venue. Their LED walls feature bright and vibrant materials that engage audiences and enhance brand messaging in retail areas, events and corporate environments. Ledtrio's video wall demonstrates the power of coherent storytelling. Video walls feature high-resolution visuals and superior display quality, turning areas into eye-catching and engaging content and advertising platforms.
9300 Csorna, Andrássy út 33/A
Hungary LED Screen Supplier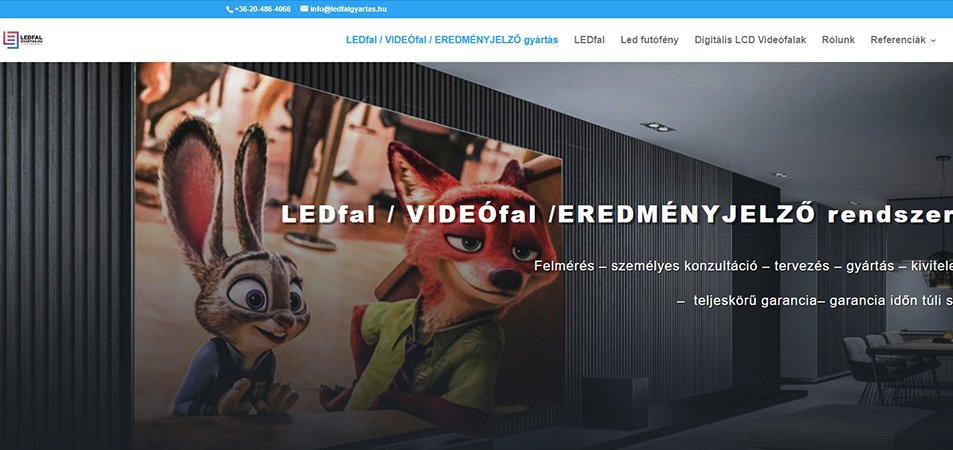 Main Product: Outdoor LED screen
Website: https://www.ledfalgyartas.hu/
Tel. no: 3620 486 40 66
Email: info@ledfalgyartas.hu
Ledfalgyártás is a dynamic and creative organization focused on disrupting traditional marketing practices. By providing cutting-edge LED screen and lighting solutions, they enable powerful and adaptable marketing tools to replace traditional posters and banners. Their focus on real-time updated LED screens enables clients to share relevant and eye-catching content with their target audiences, thereby increasing brand exposure and communication effects.
Ledfalgyártás believes that innovation is the key to unlocking new possibilities in marketing and brand communication, and their LED screens feature real-time updates and dynamic content to help customers respond quickly to market changes and audience preferences.
9300 Csorna, Andrássy út 33/A.
Hungary LED Screen Supplier
Main Product: Outdoor LED screen
Website: https://www.futofeny.hu/
Tel. no: 36 20 486 4066
Email: info@futofeny.hu
Futófény is a market leader in the manufacturing and distribution of LED displays, neon lights and lighting advertising solutions. They offer a high-quality selection of merchandise, including LED and video walls, running lights, neon lights, and more, and provide on-site installation, construction, and commissioning services.
Their products are manufactured using high-quality materials and components to ensure long-term performance and reliability. Futófény understands that each client has specific needs, and they work with organizations to develop custom solutions that support their branding and marketing goals.
1137 Budapest,, Katona József utca 28.
Hungary LED Screen Supplier
Main Product: Rental LED screen
Website: https://ledfalberles.com/
Tel. no: 36 70 464 6336
Email: info@ledfalberles.com
Ledfalberles.com specializes in providing high-quality rental LED display solutions to businesses and organizations in various industries and is a reputable company. With a commitment to quality, reliability and customer satisfaction, they have built a reputation for delivering dynamic and eye-catching LED display solutions.
Ledfalberles.com's extensive rental services are suitable for all kinds of events, exhibitions, conferences, concerts and any other occasion where effective visual communication is required. They offer a variety of rental LED displays, from indoor LED screens suitable for conferences and trade shows to outdoor LED screens capable of withstanding various weather conditions during concerts and outdoor events. Ledfalberles.com's LED rental displays offer high-resolution images, vibrant colors and consistent performance.
Budapest, Tátra utca 5/A, 1136,Magyarország
Magyarország LED Screen Supplier
Main Product: Indoor LED screen
Website: https://szepesi-led-kft.business.site/
Tel. no: 06 20 555 5085
Email: CONTACTO@VISUALCOM.CL
Szepesi LED Ktf is a leading supplier of indoor LED screens dedicated to transforming indoor environments with attractive visual solutions. They focus on delivering cutting-edge LED screens that deliver superior visual experiences in a variety of indoor environments with an emphasis on innovation, quality and customer satisfaction. Their indoor LED screens improve communication and create engaging environments in corporate offices, retail stores, museums, event venues and educational institutions.
Szepesi LED Ktf combines technical ability and artistic vision to provide customers with customized solutions. Their team of experts understand the intricacies of LED technology and work closely with businesses to ensure their indoor LED displays accurately align with their branding and marketing objectives.
BUDAPEST, SZEGED, KECSKEMÉT, KISKUNFÉLEGYHÁZA, BÉKÉCSABA, BAJA, PÉCS, KESZTHELY, SZÉKESFÉHÉRVÁR
Hungary LED Screen Supplier
Main Product: Indoor and outdoor LED screens
Website: https://www.ledsmart.hu/
Tel. no: 36 30 445 6000
Email: prof-x@t-online.hu
LedSmart is a premier supplier of cutting-edge LED solutions, specializing in professional and sophisticated lighting for billboards, newspapers, scoreboards and LED walls. They continuously push the limits of LED technology and information technology (IT), are committed to excellence, and always maintain a leading position in the market. Their mission is to stand out in the industry by providing eye-catching neon signs that maximize their clients' profitability.
At LedSmart, they take great pride in their technical knowledge and mastery of LED technology. Their professional team works with IT experts to ensure that their LED solutions are both beautiful and technologically advanced. They continually strive to stay on top.
1095 Budapest Soroksári út 48-54 II. gate
Hungary LED Screen Supplier
Main Product: LED poster screen
Website: https://www.display-store.hu/
Tel. no: (36-1) 217 0982
Email: info@displayplaza.hu
Displaystore.hu has a strong nationwide presence and is a well-known player in the display industry. Their success is built on the solid foundation of providing high-quality products and excellent services and is committed to becoming a long-term advertising tool expert for valued customers, with a special focus on dynamic growth in the B2B business field.
displaystore.hu firmly believes that providing knowledgeable guidance and marketing-focused product placement is crucial, which motivates them to continuously evolve in the application of cutting-edge display technology. Their ultimate goal is to support clients at every critical stage of their business operations by providing them with reliable advertising solutions that deliver a solid return on investment. They strive to provide customers with quality merchandise, professional advice and meticulous customer service, becoming a trusted partner throughout the advertising process.
Upper Industrial Boulevard 2B. A10, Nagytarcsa, 2142
Nagytarcsa LED Screen Supplier
Main Product: Outdoor LED screen / LED scoreboard
Website: http://www.visualsolutions.hu/
Tel. no: 6 70 341 5530
Email: info@visualsolutions.hu
Visual Solution Ktf specializes in providing the highest quality outdoor LED scoreboards and displays. By placing a strong emphasis on quality and customer satisfaction, they have become a top supplier in the industry. Their area of expertise is delivering cutting-edge visual solutions to improve engagement and communication in outdoor environments.
Visual Solution Ktf offers a wide selection of outdoor LED displays that are expertly manufactured for outstanding performance and durability. These LED displays have bright colors, clear images, excellent brightness, and are clearly readable even under direct sunlight. Their LED displays are designed to engage people and leave a lasting impression, whether used for advertising, messaging or to enhance the aesthetics of outdoor venues.
H-1054 Budapest, Hold utca 23.
Hungary LED Screen Supplier
Main Product: Outdoor LED screen
Website: https://latnifogod.hu/
Tel. no: 36 (1) 788 9964
Email: info@latnifogod.hu
LÉTÍFOGOD.HU focuses on providing high-quality outdoor LED displays and is a top-notch company with good reputation. By focusing on cutting-edge vision solutions, they have become a reliable supplier in the field. Their area of expertise is providing engaging and dynamic outdoor LED displays to improve communication and provide an enjoyable experience in a variety of outdoor environments.
LÉTÍFOGOD.HU offers a wide range of high-quality outdoor LED displays, carefully designed to meet the highest performance and reliability requirements. These LED displays successfully convey information and capture the audience's attention with vibrant colors, high visibility (even in direct sunlight) and clear image quality.
1048 Budapest, Tenkefürdő u. 5.
Hungary LED Screen Supplier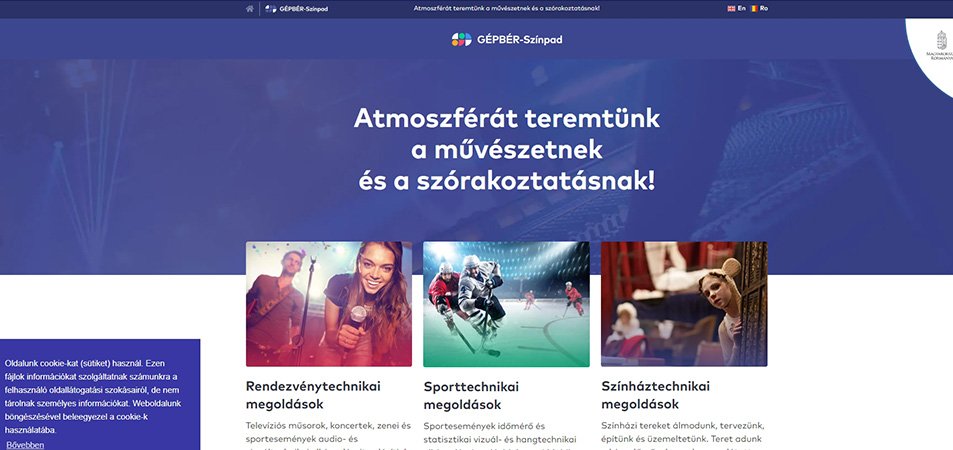 Main Product: Indoor LED screen
Website: https://gepberszinpad.com/
Tel. no: 36 70 511 4701
Email: gepberszinpad@gepberszinpad.hu
GÉPBÉR-Sznpad Kft. is a well-respected and reliable business focused on providing high-quality indoor LED displays. They have a good reputation in the market and are considered a valuable supplier of cutting-edge indoor visual solutions.
GÉPBÉR-Sznpad Kft. offers a wide selection of indoor LED displays that are carefully designed and crafted for outstanding performance and eye-catching images. Their LED displays are renowned for their superior brightness, high-resolution visuals and brilliant colors, capable of delivering the most impactful and engaging content.