The rapid development of LED Display in recent years has appeared in every corner of our lives, improving our viewing angle and promoting the development of society. Let us take a look at the LED display.
EAGER LED is a professional LED Display manufacturer and exporter, with 12 years of experience in Shenzhen, China, with a complete R&D, manufacturing, quality control, sales, and service team system, and is committed to foreign professional engineering customers and distribution Customers; provide high-quality, high-performance LED display and large-scale full-color display solutions. The company's current products are mainly divided into advertising LED display, rental LED display, front desk LED display, flexible LED display, poster LED display, transparent LED display, indoor high-definition LED display, LED display around the stadium and creative LED display. LED full-color display modules are first-class in the spot supply industry. The LED display manufacturer EAGER explains the advantages of LED display: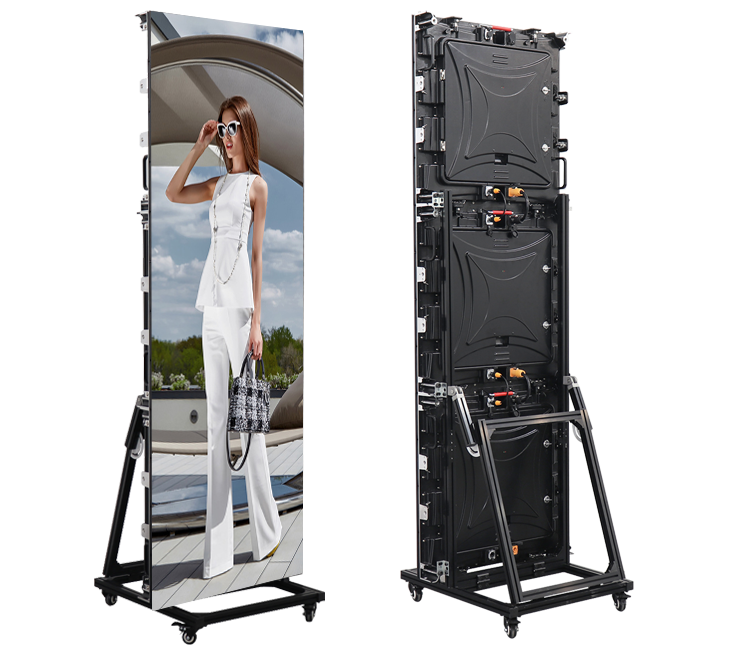 Advantages Of LED Display
Safety: The LED display uses low-voltage DC power supply voltage, so it is very safe to use. Both the elderly and children can be used safely without causing safety hazards.
Flexibility: The LED display uses a very flexible FPC as the substrate, which is easy to form and suitable for various advertising modeling needs.
Long lifespan: The normal lifespan of the LED display is 80,000 to 100,000 hours. If you work 24 hours a day, the lifespan is almost 10 years. Therefore, the life span of the LED display is several times that of the traditional one.
Energy saving and environmental protection: Compared with traditional lighting and decorative lamps, the light-emitting element of LED display is LED. Since the power of a single LED is very low, generally 0.04~0.08W, the power is several times lower, but the effect is good. a lot of. The material of the LED display screen is made of environmentally friendly materials, which are recyclable and will not cause environmental pollution and damage due to extensive use.
Easy installation: The LED display is very easy to install. It can be installed on a variety of supporting surfaces with fixing clips, wire ducts, iron wires, iron nets, etc. In addition, because the LED display is light and thin, the fixed function can also be achieved by using double-sided tape. It can be installed without professionals, and you can really enjoy the fun of DIY decoration.
Pure color: The LED display uses high-brightness patches, so it has the advantages of LED light-emitting elements, the light color is pure, soft, and no glare. It can be used for decoration and lighting.
Environmental protection: The material of the LED display screen is made of environmentally friendly materials, which are recyclable and will not cause environmental pollution and damage due to extensive use.
Wide range of applications: LED display screens are widely used in building contours, steps, booths, bridges, hotels, KTV decorative lighting, as well as the production of advertising signs, various large-scale animations, calligraphy and painting due to their characteristics of lightness, thinness and pure colors. Advertising design and other places. With the gradual maturity of LED display technology, its application range will be more extensive.
It is precisely because of these advantages that LED displays are well received by the market. With the changes in market demand, new trends in the LED display industry will inevitably appear:
Diversified product structure: In the future, small full-color LED displays suitable for the characteristics and professional requirements of the service industry will be greatly improved, and the product categories and varieties of full-color LED displays for the information service field will be more abundant. Some There will be breakthroughs in potential market demand and application areas. For example, the demand for information display screens in comprehensive services such as public transportation, parking lots, catering, hospitals, etc. will have a greater increase, large-scale, miniaturized standard system full-color LED The display screen will occupy the majority share in the total color LED display market.
Display technology has risen and costs have been reduced: In the past two years, innovative products have continued to come out, technological innovation in the industry has been active, and product technology development capabilities have been continuously strengthened. Technical development, technical support and technical assurance capabilities to meet the needs of special applications have been enhanced, and the development of key technologies and mainstream products is relatively mature, which will reduce the production cost of led display screens and lower sales prices.
The rapid start and development of the indoor LED display market: It has three major characteristics. Features such as intelligent control, colorful functionality, and architectural integration.
modular development: how to make the LED industry develop towards standardization, serialization, and standardization, and enhance the overall competitiveness of the LED display industry, this has become the primary solution for LED companies.
The full-color LED Display products developed and manufactured by EAGER LED have a complete range and diversified product applications. Among them, the LED Display series cover indoors and outdoors. EAGER LED not only has a cost advantage and time advantage over other companies. At the same time, as a leader in high-tech enterprises, EAGER LED has always been able to not only continuously expand its production capacity, but also persevere in continuous technological innovation and realization The two routes of production capacity and technology go hand in hand. This is also the "winning magic weapon" for EAGER LED to always be based on the industry trend and lead the industry trend.