A Flexible LED Display is one that can be bent at will without itself being damaged, and its circuit board is made of a special Made of flexible material, will not break due to bending, commonly used in shopping malls and other special shape of the column screen LED Display.With the rapid development of the LED display industry, the production technology of the flexible LED display is now very mature, with a variety of Customized LED screens can also be done by flexible LED displays, so much so that flexible LED displays are becoming more and more available in the market. Popularity. So, what makes flexible LED displays so popular in the market?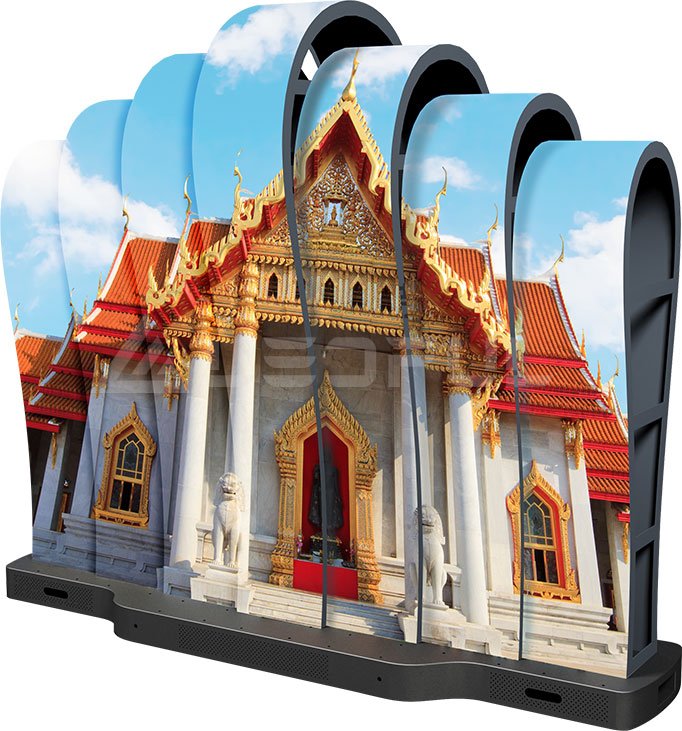 1). Flexible LED Display is easy to bend, and can achieve a variety of installation methods, such as floor installation, hanging installation, embedded installation.hanging installation, etc.With a wide range of applications, it enables the installation of a variety of beautifully creative custom LED displays.
2). Flexible LED Display with anti-blue light, eye protection function, can effectively prevent harmful blue light damage to the eyes, to avoid long time Visual fatigue from facing the display.Indoors, especially in shopping malls, where people spend long hours and close to the content of the display, the anti-Blue Light function is now able to It is a reflection of its irreplaceable role.
3). Small pitch type Flexible LED Display with pixel pitch of P1.667, P2, P2.5, P3, more It is suitable for indoor installation and can display in high definition even when installed near people. It has a refresh rate of 3840Hz, high resolution, high image reproduction, high grayscale, and high texture. Clear handling.
4). Low power consumption and ultra energy saving. The maximum power consumption of the Flexible LED Display is about 240W/m², and the average power consumption is about 85W/m², which is extremely low. Reduced power consumption and improved power efficiency. Especially for large screen LED display, ultra-low power consumption can save a lot of electricity expenses every year.
5). Wide range of applications. The flexible LED display can be used as a conventional LED display, can be applied in special fields, and can also be used to make Creative shaped screens, cylindrical screens, spherical screens, curved screens and so on.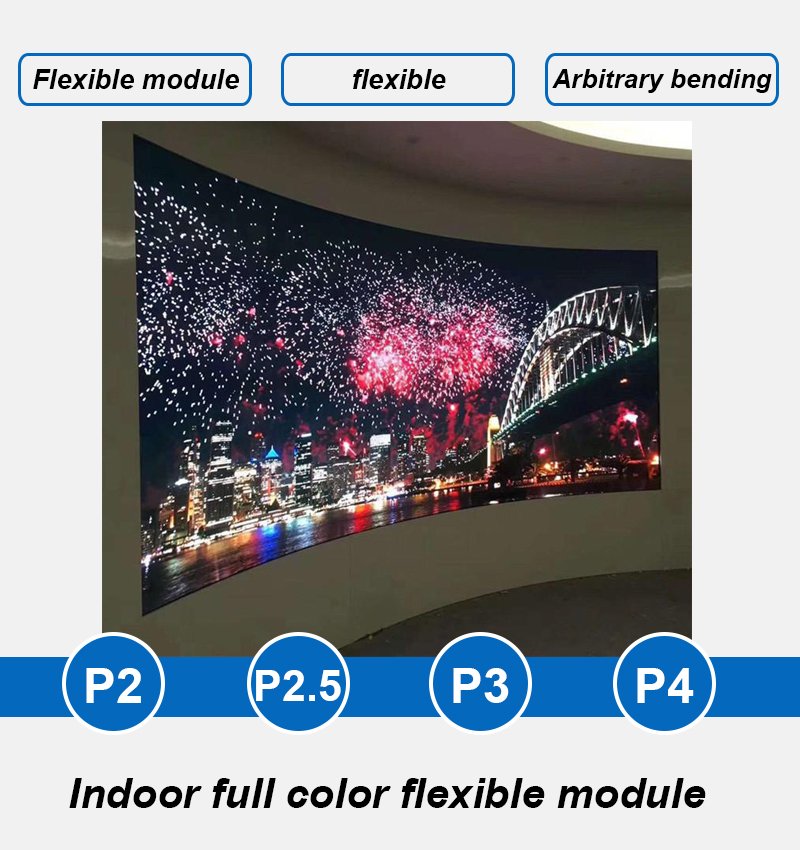 Flexible LED Displays are widely used, in major shopping malls with LED pillar screens, in entertainment venues with shaped LED displays. Most of them are chosen flexible LED display, whether in the aesthetics, or product flexibility, are easy to meet the aesthetic of the public. It can be used for decoration, and at the same time can be used for video advertising, culture and entertainment propaganda, etc., which can achieve the effect of a multi-purpose screen.Flexible LED display, in line with people's pursuit of personalized beauty, is a video display device to adapt to socio-economic development, both in the present and future, there is huge room for development to meet the growing demand for personalization and customization.