In recent years, LED screens have become more and more popular in the film and television industry, replacing traditional green screens and providing audiences with a new sense of reality. LED screens or LED walls are large displays made of many LED tiles that emit bright light and can be programmed to display any image or video. With these screens, it is now possible to project any image onto the screen to create an environment that looks completely real. This is especially useful for creating scenes that require a specific location or background, which can be difficult to achieve when shooting on location.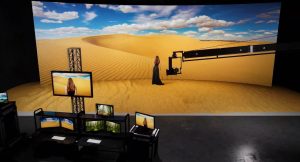 Realistic Immersive Environment
One of the main advantages of LED screens is that they provide viewers with a more immersive experience. With traditional green screen, actors often have to imagine their environment and interact with objects that don't actually exist. This can be challenging and sometimes results in a final product that lacks realism. However, using LED screens, filmmakers can create realistic backdrops and environments that actors can interact with in real time. This makes the whole process more engaging for actors and audiences alike.
increase flexibility
LED screens also offer filmmakers greater flexibility. With green screen, filmmakers have to shoot in separate locations and then add backgrounds in post-production. This can be time-consuming and expensive. Using LED screens, filmmakers can shoot everything in one scene, making the process more efficient and cost-effective. They can also change backgrounds or lighting on the fly, without waiting for post-production. This saves a lot of time and money in post-production work.
improve lighting
Another benefit of LED screens is that they offer better lighting options. Traditional green screens require a lot of lighting to produce the desired effect, which can be expensive and time-consuming. With LED screens, lighting can be controlled more precisely, resulting in more realistic and dynamic lighting effects.
more control
LED screens also have environmental benefits. Green screens typically require a lot of materials and resources to build and generate a lot of waste. LED screens, on the other hand, are reusable and require less energy to operate. This makes them a more sustainable option for filmmakers.
Despite their many advantages, LED screens have some limitations. For example, they can be expensive to purchase and maintain, and may not be suitable for all types of productions. They also require a high level of technical expertise to function, which can be a hurdle for some filmmakers.
LED screens are gaining popularity in the film industry, especially for big-budget productions that require complex visual effects and immersive environments. The use of LED screens can create realistic backgrounds and scenery, which can enhance the overall visual quality of the movie.
Overall, the development prospects of LED screens in the film and television industry are optimistic. As the technology continues to improve and become more affordable, we can expect to see more and more filmmakers incorporating LED screens into their productions, especially for big-budget projects that require a high level of visual effects and immersive environments.