Advertising LED display, also known as commercial advertising LED display , LED advertising wall, etc., is an efficient, easy-to-operate, high-quality, high-performance visual marketing medium, which is widely used in spreading brands, displaying products, promoting promotions, etc.
       Advertising LED display screen is a powerful tool for promoting information in marketing. The digital platform provides excellent display modes such as high-end, high efficiency, and high quality, as well as rich resources such as text, pictures, videos, and special effects. It provides users with more new marketing ideas and opportunities.
1. Why do you need an advertising LED display?
      Advertising LED display is a new type of media advertising carrier. It has a series of advantages and characteristics. More and more businesses and brands are beginning to choose this new way of publicity to attract people's attention. So, why do you need an advertising LED display?
Strong visual impact
      The LED display with large size, dynamic sound, and picture-in-one comprehensively promotes the audience's perception, reasonably conveys information, and correctly guides consumption.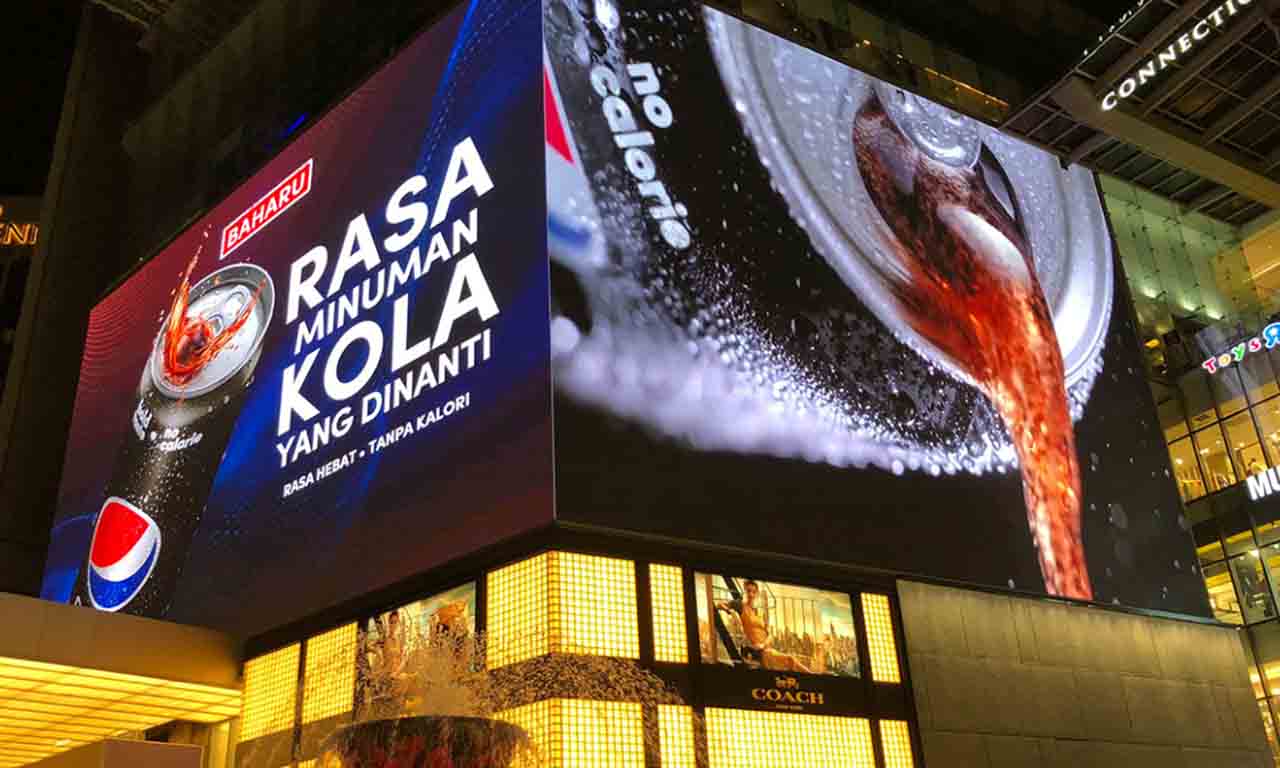 Effectively improve brand influence
      Advertising LED display can be used as a powerful means to spread corporate brand image. By designing a unique and creative advertising interface, the brand image can be quickly spread among the public and printed in people's minds. Setting up advertising LED display screens in public events, exhibitions, hotel halls, shopping malls and supermarkets and other high-traffic places can maximize brand exposure and popularity.
Improve communication effectiveness and cost
      Advertising LED display can effectively improve the communication effect, convey information more accurately and effectively, reduce communication costs and improve efficiency. Traditional publicity methods require design, production, and installation, which consume manpower and material resources, and take a long time to complete. Advertising LED displays can easily replace these publicity media and spread advertising information more quickly and conveniently.
      Advertising LED display is an effective tool for marketing. With the rise of the Internet and large screens, large advertising screens are becoming more and more popular. It has a stronger visual impact, the ability to quickly spread the corporate brand image, and lower communication costs. It is one of the important electronic media in the field of advertising that needs to be paid attention to by the industry. With the continuous development of technology, advertising LED displays will bring wider applications and more creativity to marketing.
2. Advertising LED Display Advantages
      LED display technology is a constantly developing and innovative product in publicity and promotion. It has absolute advantages and can better meet the publicity needs of various enterprises, especially large advertising agencies.
1)Compelling visuals
      Advertising LED display is a very visually impactful tool in marketing, which can attract people's attention through colorful pictures, moving pictures, videos and other visual elements. The scrolling effect and oversized visuals of this medium are more attractive than traditional promotional materials such as posters and billboards.
2)Diversified display information
      Advertising LED display can display various forms of content, including animation, video, static text, etc., making advertising more vivid and powerful, attracting the attention of the audience, and playing a good publicity and promotion effect.
3)Improve business efficiency
      Advertising LED displays are usually vivid and bright. If they are installed in large public places, squares, etc., they can attract more people's attention, and the more people gather, the more opportunities to get attention. If merchants display their advertisements on LED displays, they can improve commercial efficiency to a certain extent.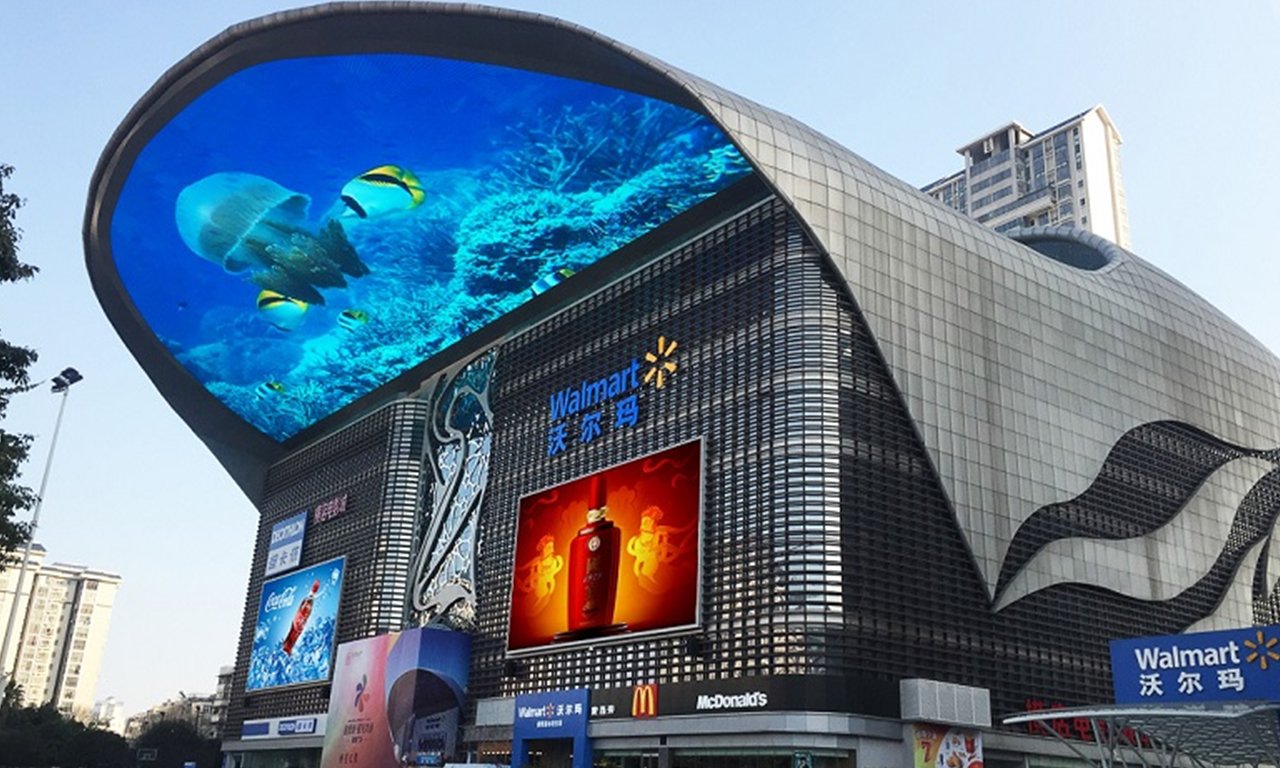 4)Flexible maintenance , strong durability
      LED display screens are flexible in maintenance, easy to repair or replace faults, and have more flexible solutions. At the same time, the LED display shell is made of die-cast aluminum alloy, which is strong in wind and water resistance and has a longer service life.
3. Advertising LED Display Application Scenarios
      Advertising LED display is a modern high-tech product, which has the advantages of high visibility, high brightness and wider display information. Below are some common application scenarios.
Commercial place
      The most commonly used scenarios in the commercial field are shopping malls, supermarkets, brand stores and other places. In these places, LED display screens can display merchants' advertisements, sales promotion information, and new product promotions to attract consumers' attention, quickly increase brand influence and sell products.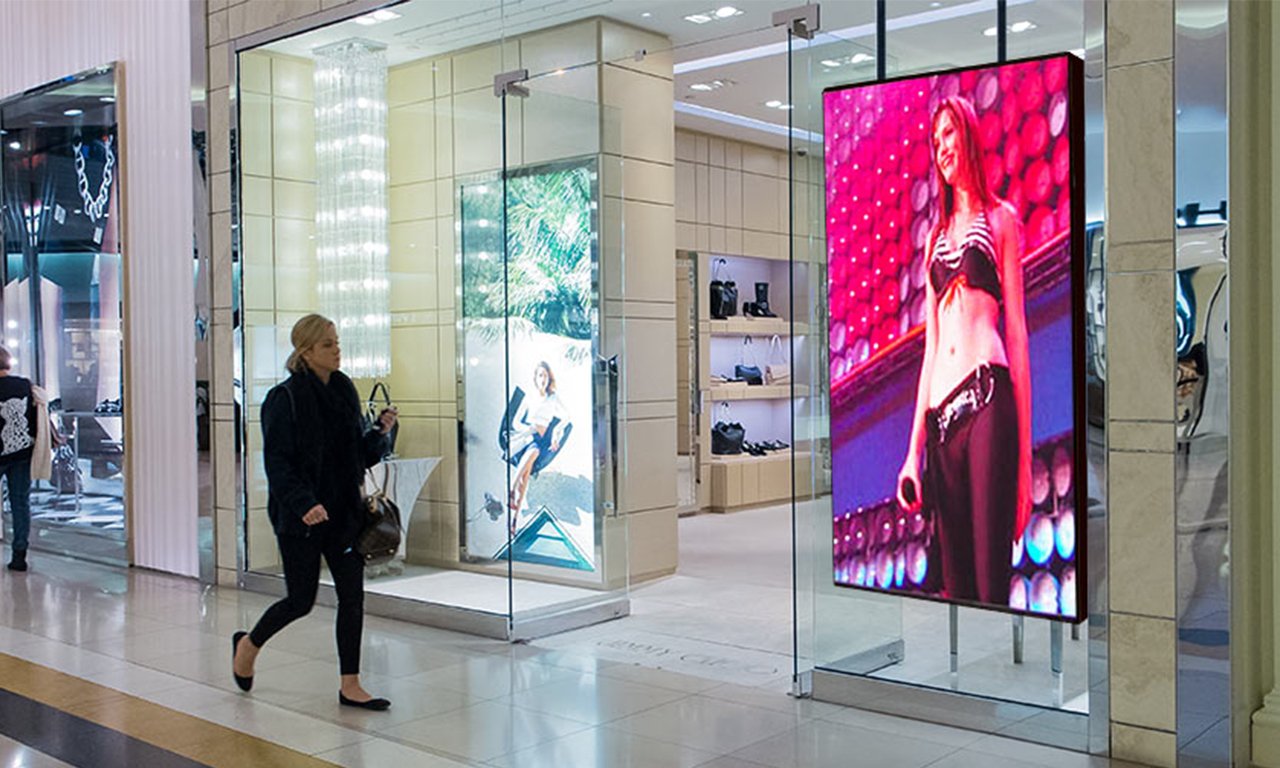 city landmarks
      Obviously, outdoor LED large screens usually appear in urban core business districts, traffic arteries and densely populated areas. The superior location of these screens means that they have higher marketing value, whether it is brand promotion or business promotion of related companies.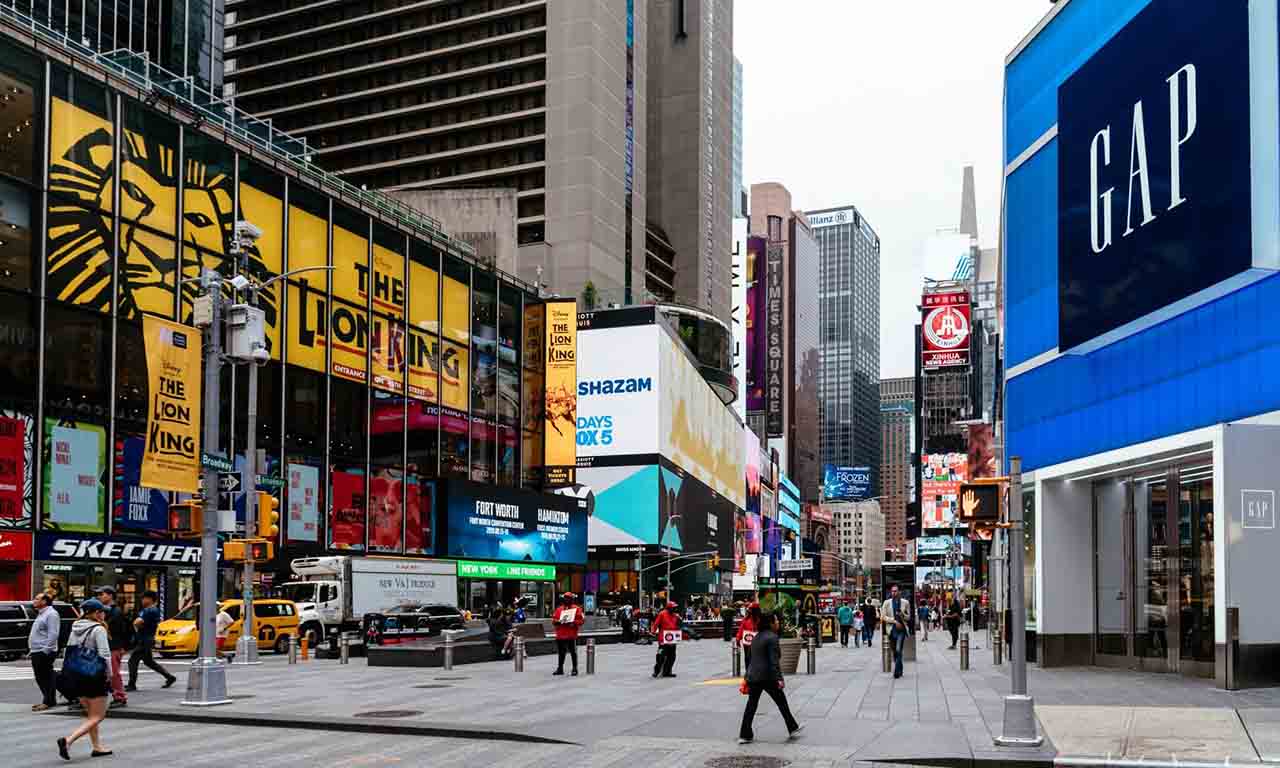 Transportation hub
      In transportation places such as airports, stations, and docks, LED displays are usually used for directions, introductions, and timetable inquiries, which play an important role in guiding people's travel. In addition, the LED display also plays the role of advertising.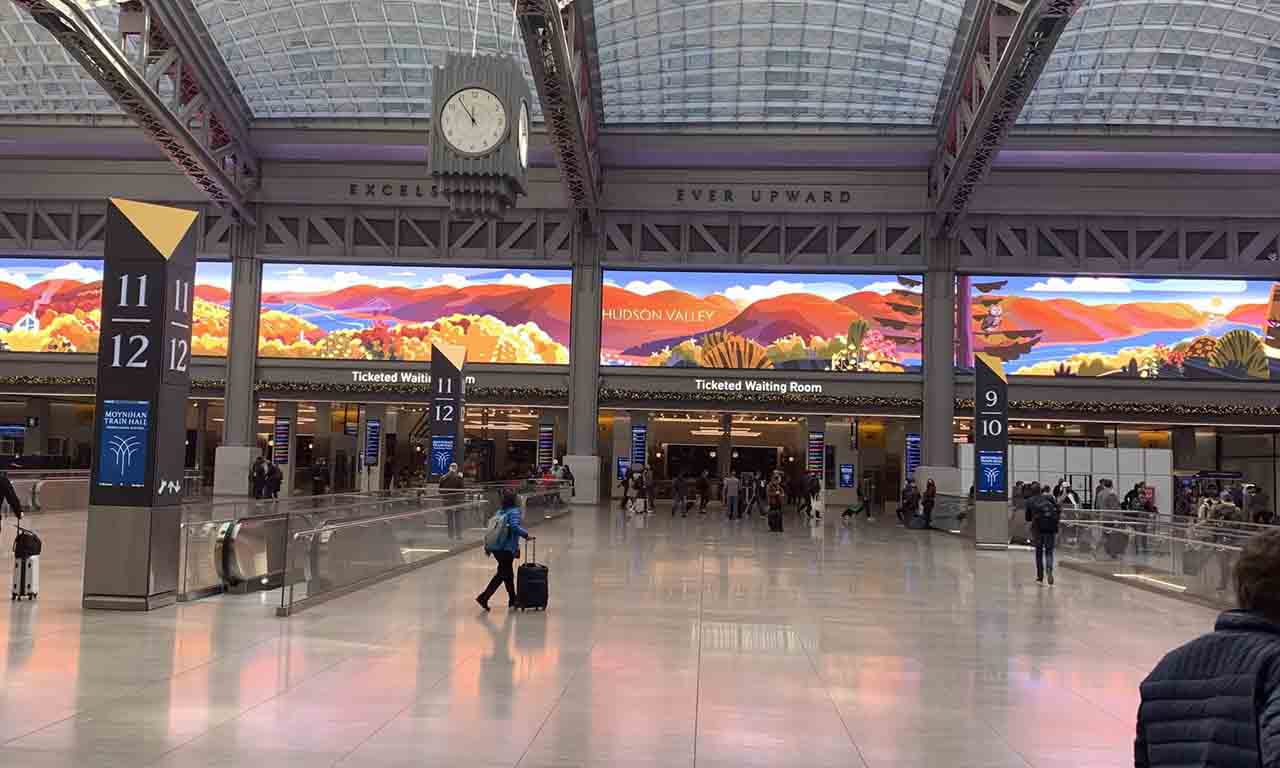 4. Advertising LED Display Types
      The types of advertising LED displays are mainly divided into indoor advertising LED displays and outdoor advertising LED displays according to their installation places. EagerLED advertising LED display is durable and excellent in performance, and can display advertising content in various occasions such as outdoors, semi-outdoors, and indoors.
Indoor Advertising LED Display
      Indoor advertising LED display is an LED display installed in an indoor environment and is widely used in indoor places. Compared with other types of LED displays, indoor LED displays have high refresh rate, high brightness, high contrast and color reproduction, and the display effect is clearer, brighter and more vivid. Indoor LED displays are divided into P2.5, P3, P4, P5, P6, P7.62, P8, P10, and other specifications. The larger the number behind the number, the sparser the screen pixels. EagerLED provides high-quality, high-stability indoor advertising LED displays, featuring ultra-light weight, ultra-thin thickness, easy maintenance, and easy installation.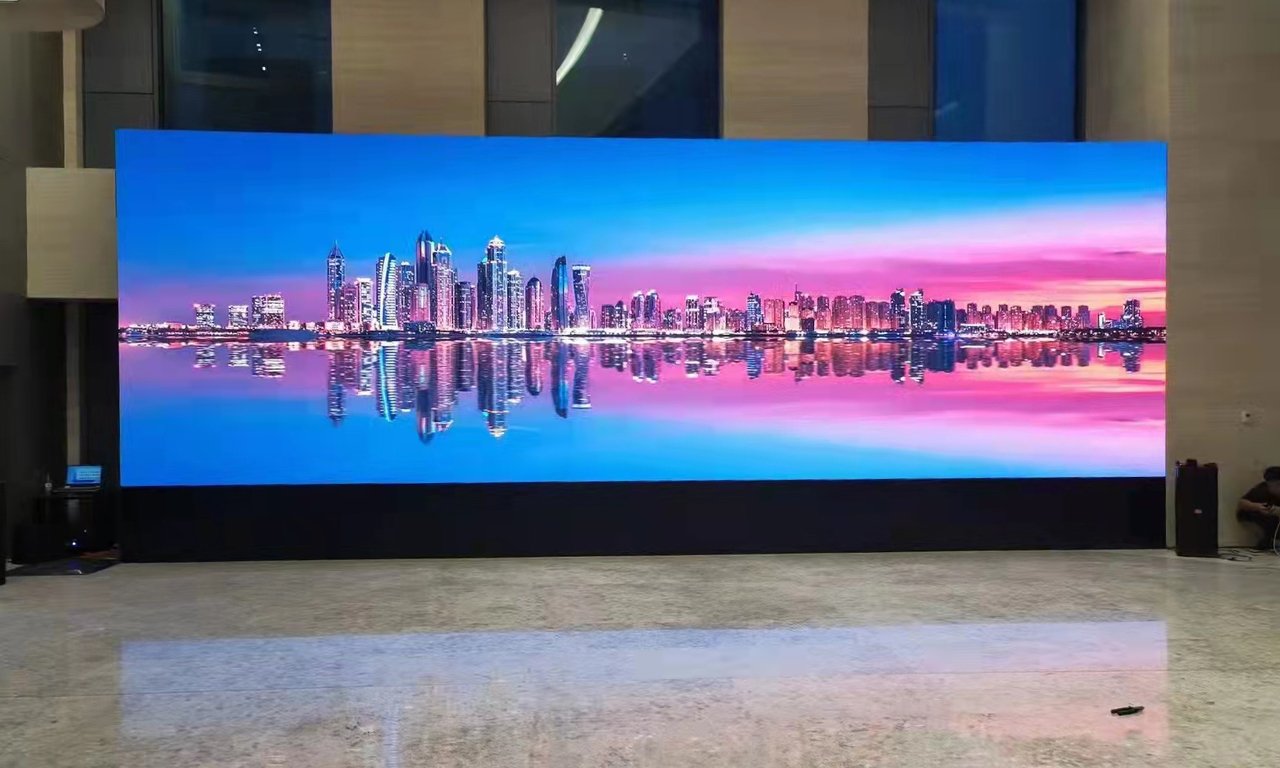 Outdoor Advertising LED Display
      Outdoor advertising LED displays are widely used in large outdoor plazas, stadiums, cultural and entertainment centers, highways, etc., with IP65 dustproof and waterproof functions, which can withstand harsh weather conditions in outdoor activities. Outdoor display screens are divided into P2.5mm, P3mm, P4mm, P5mm, P6mm, P6.67mm, P8mm, P10mm, P10mm, P16mm and other specifications. EagerLED outdoor advertising LED display cabinet is light, portable and easy to maintain, which not only saves time but also saves cost.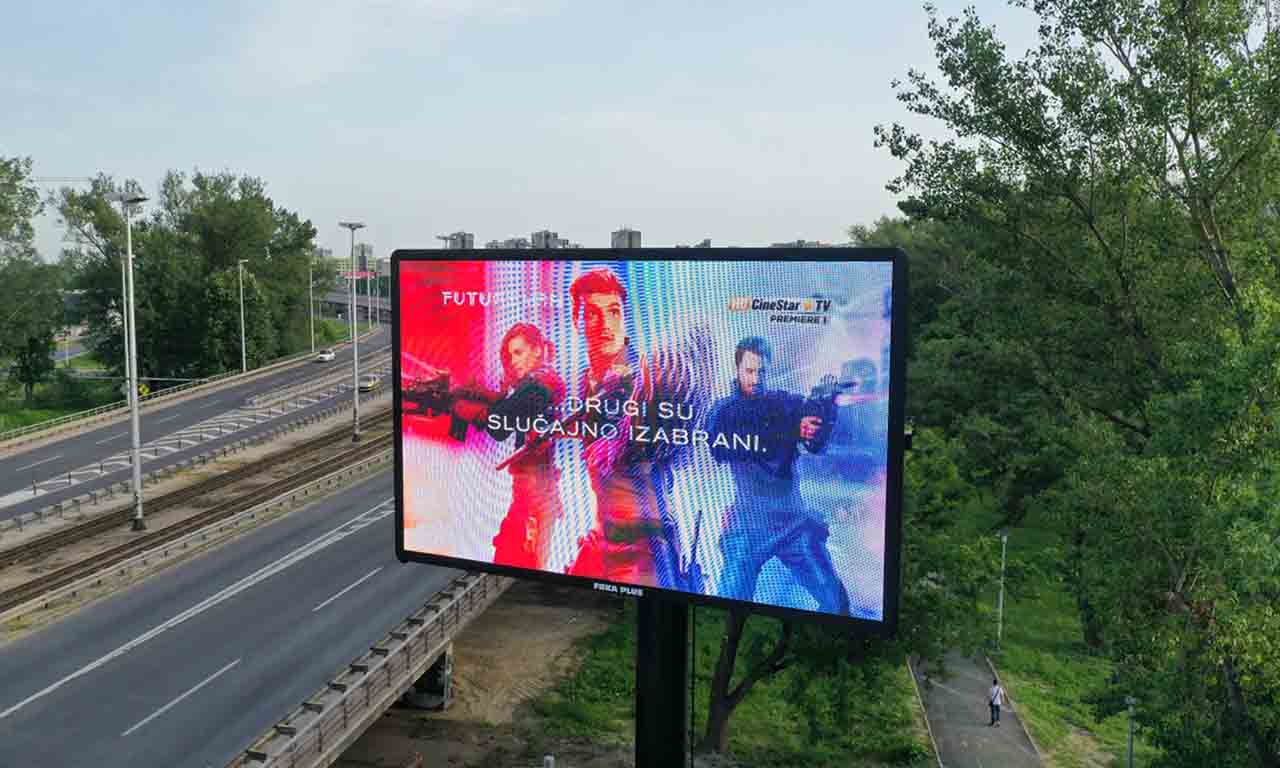 Poster LED display
      With the characteristics of flexible screen display, seamless splicing, and shocking visual effects, the poster LED display can meet the needs of advertising in shopping malls, brand counters, event sites and other places. Eager LED LED poster display is light weight, cabinet frame and LED parts are reliable and portable. The frameless design makes the product easy to move and fit in tight spaces.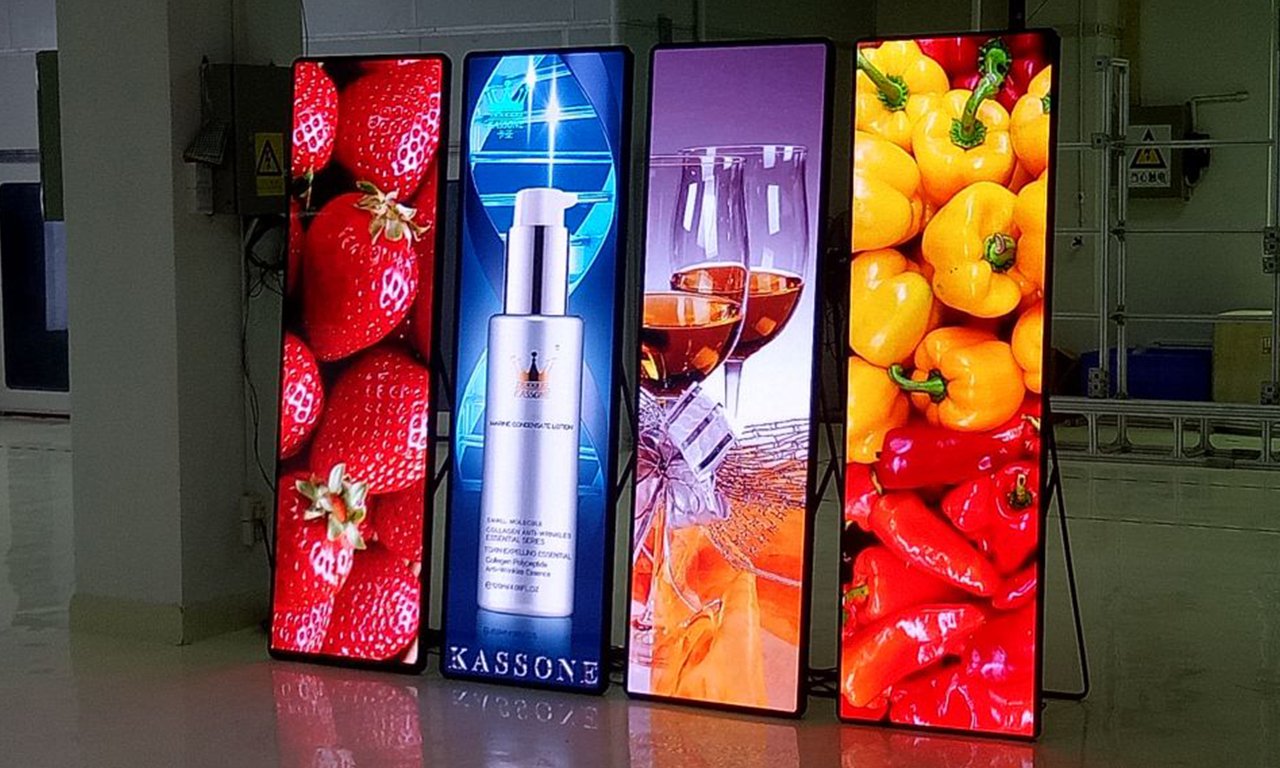 5. EagerLED Advertising LED Display Solution
1)Fixed advertising LED display
      EagerLED EA640F2 LED display is a highly optimized indoor fixed installation display. This display adopts an ultra-light optimized design, the cabinet looks high-end and elegant, light in weight, LED power supply, card and module front-end service, easy to transport, save labor costs, and easy to install, assemble and disassemble. It is very suitable for use in commercial advertisements, publicity displays, information releases and other occasions.
Pixel pitch: EagerLED can do P1, P1.25, P1.37, P1.53, P1.66, P1.86, P2, P2.5.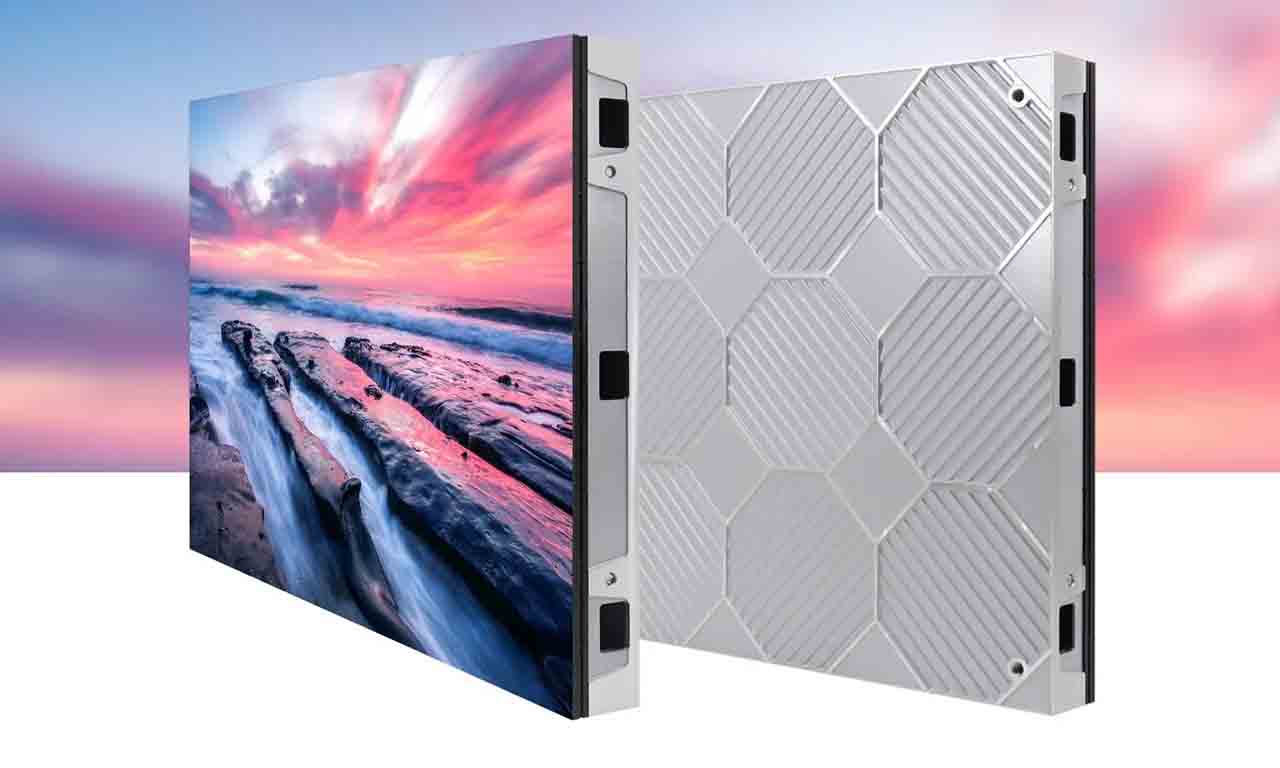 EagerLED EA960R1 LED display is a high quality fixed installation advertising screen with ultra-light cabinet design, easy maintenance and operation, suitable for various indoor and outdoor applications. The LED display has a high refresh rate exceeding 1920Hz, waterproof, dustproof, fast locking, compact structure and standard size cabinet design . This multifunctional 960×960 cabinet is your best choice.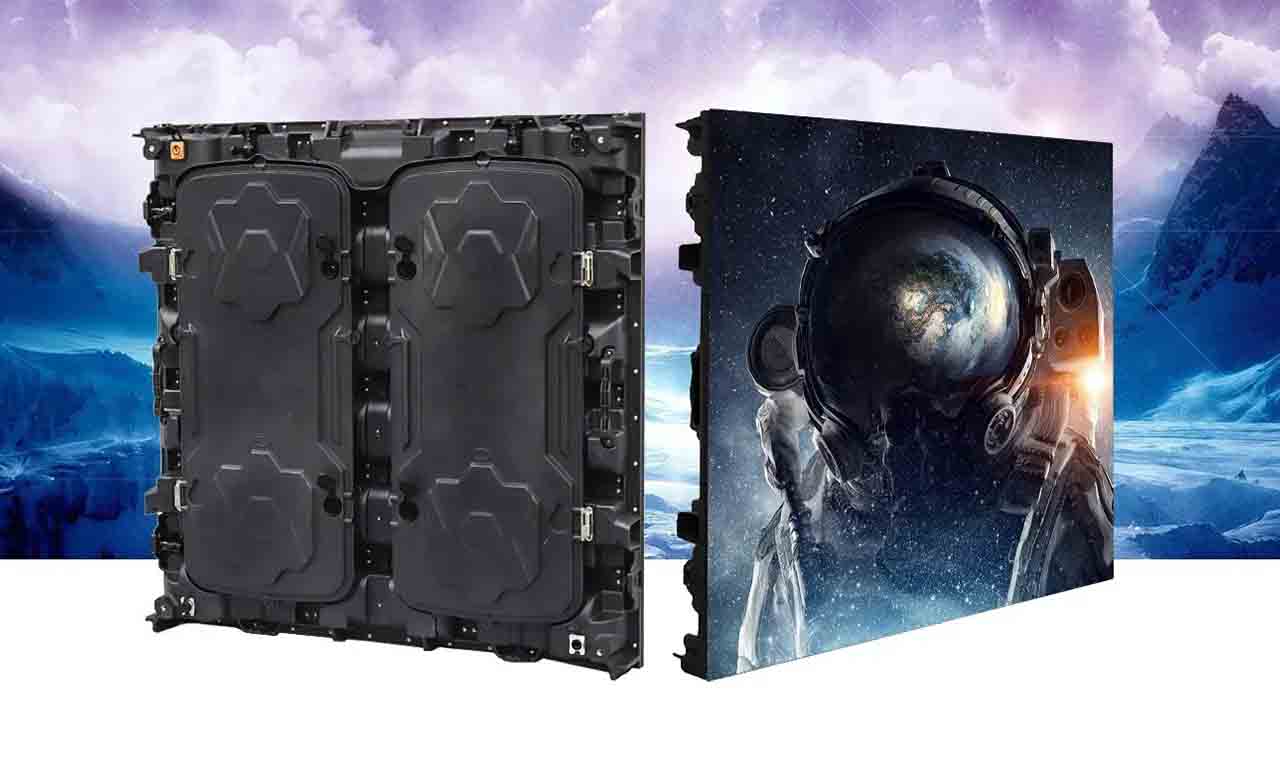 2)Commercial LED advertising display
      Commercial LED screens can be installed on the top or facade of buildings, major highways, bus stations or other places with high traffic to support advertising campaigns for profit. The LED commercial advertising display can display your advertisements and information 24/7 hours, and the long service life ensures that your investment is worthwhile.
EA250W Commercial LED Advertising Display
      EagerLED Commercial LED Advertising Display EA250W Indoor Wallpaper Front Service is a high-quality LED display, which is specially designed for commercial advertising and application services. This series is characterized by ultra-thin wall cabinets, support for full front desk service, perfect screen flatness and easy maintenance. It can provide users with more diversified and personalized advertising forms, effectively improving the publicity effect of commercial advertisements and app experience.
EA25 0W pixel pitch: P1.95 , P2.6 , P2.97 , P3.91 , P4.81
      EagerLED Commercial LED Advertising Display EA250F is a high-quality outdoor advertising screen specially designed for commercial advertising and application services. Its main features include high-brightness SMD packaging technology, full front outdoor maintenance, efficient heat dissipation, all-weather outdoor work, IP65 dustproof and waterproof, easy maintenance and operation, etc. This product is a good helper for merchant brand communication and advertising, and can bring more and more business opportunities and diversified marketing strategies for merchants.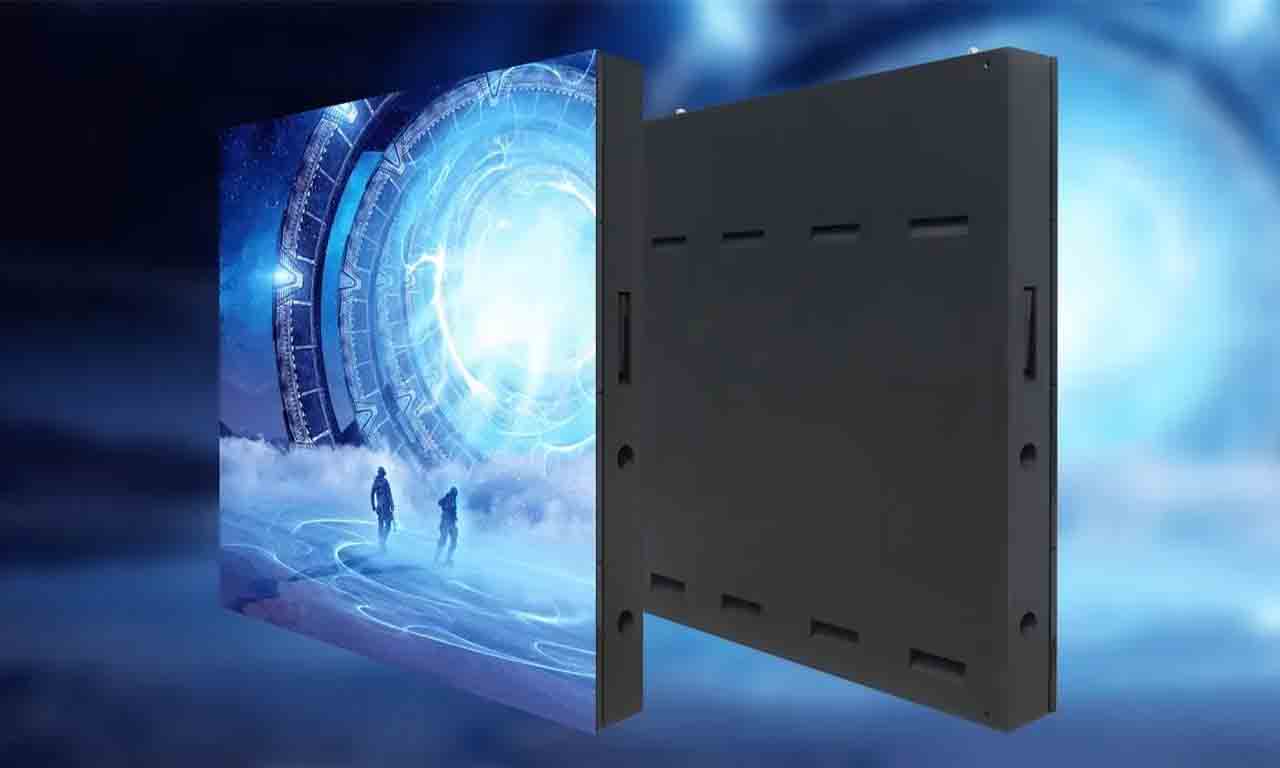 3)Poster LED display
      Poster LED display is simple in structure, easy to operate, and the display effect is very good at the same time, it is widely used in shopping malls, fashion stores, exhibitions, hotel lobbies and bank lobbies and other places. The poster LED screen can not only be used for advertising, but also can release promotional information and product display. It is an important tool for merchant brand promotion and product display.
      EagerLED has launched three poster LED displays: EA1920iP series, EA1920iP2 series and EA1920MP series. Their functions are different, but they can meet the needs of different application scenarios and bring users better display effects and operating experience.
      This article introduces the types, advantages and application scenarios of advertising LED displays for you. EagerLED is your reliable advertising LED display solution provider. We are committed to providing you with competitive products and considerate services, and look forward to helping you achieve brand promotion and business success.