Poster LED display has become a popular way of publicity in the current advertising market . Compared with traditional publicity and advertising media, poster LED display has great advantages in terms of effect, flexibility and cost. Below we will learn more about poster LED display .
1.What is LED poster screen?
      Poster LED Screen is a freestanding screen for displaying captivating videos and images indoors and outdoors including retail stores, shopping malls. events, exhibitions, etc. Compared with traditional advertising media, this kind of screen has great advantages in terms of effect, cost and flexibility.
      The LED poster screen can be vertical , wall-mounted, or suspended, and it can also be creatively spliced to add personality. These characteristics make them ideal equipment for advertising, saving maintenance costs for replacement. EagerLED LED Poster Display is lightweight, cabinet frame and LED parts are reliable and portable. The frameless design makes the product easy to move and fit in tight spaces.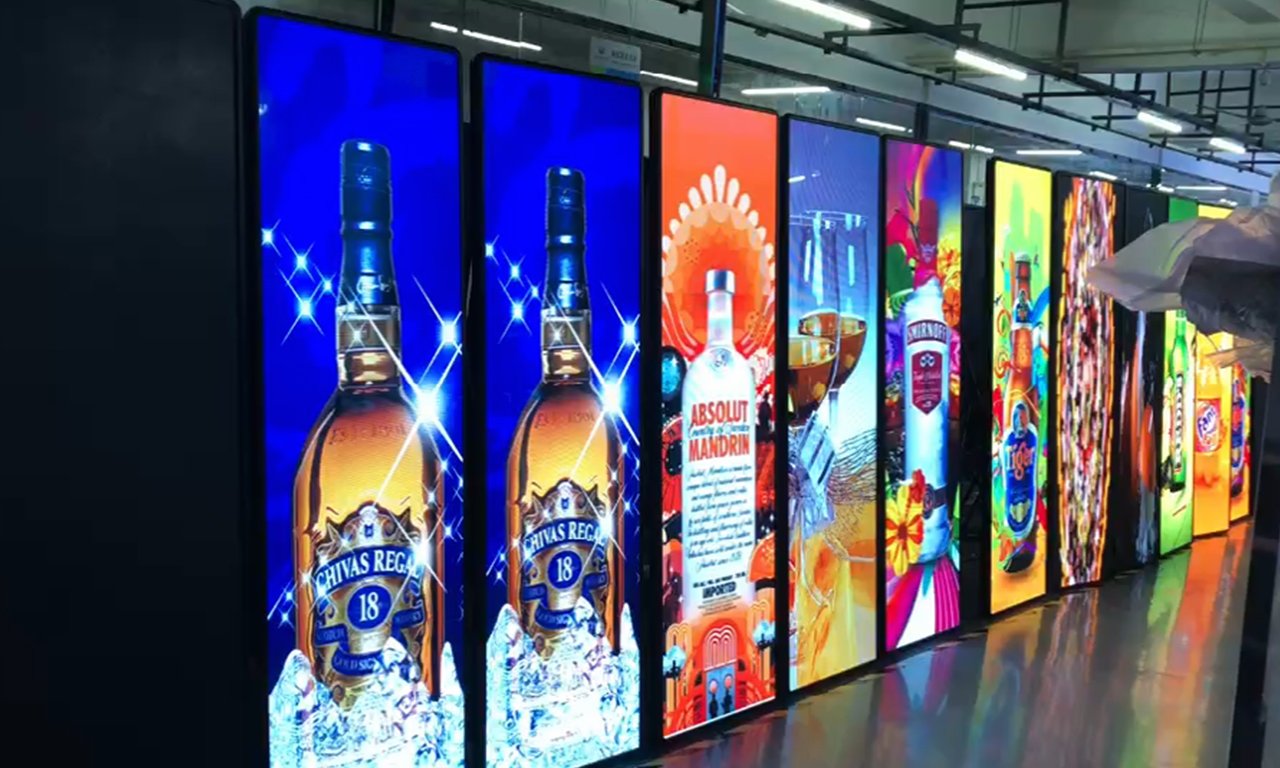 2.Advantages of LED poster screen
1)Ultra-thin design, simple and beautiful
      The LED poster screen adopts an ultra-thin cabinet design, and the die-casting aluminum box is light and easy to transport, with good flatness and no gaps. The poster screen with a lighter screen body is easier to transport, and it can be flexibly transported and adjusted according to the actual scene application. Most importantly, the LED poster screen adopts a slim design, which is simple and beautiful.
2)Clear and flexible , multi-screen synchronization
      Clear and flexible picture presentation is also one of the major features of LED poster screens. Different from traditional posters, LED poster screens can scroll to present relevant images, bringing shocking visual effects. At the same time, a new signal loop backup is added, and the screen will no longer be black if any signal is interrupted; multiple LED poster screens can also achieve seamless splicing, so that multiple screens can be played synchronously to ensure the integrity of the output picture, and the visual effect is more shocking, easily satisfying the track Transportation, shopping mall display, commercial chain and other application scenarios.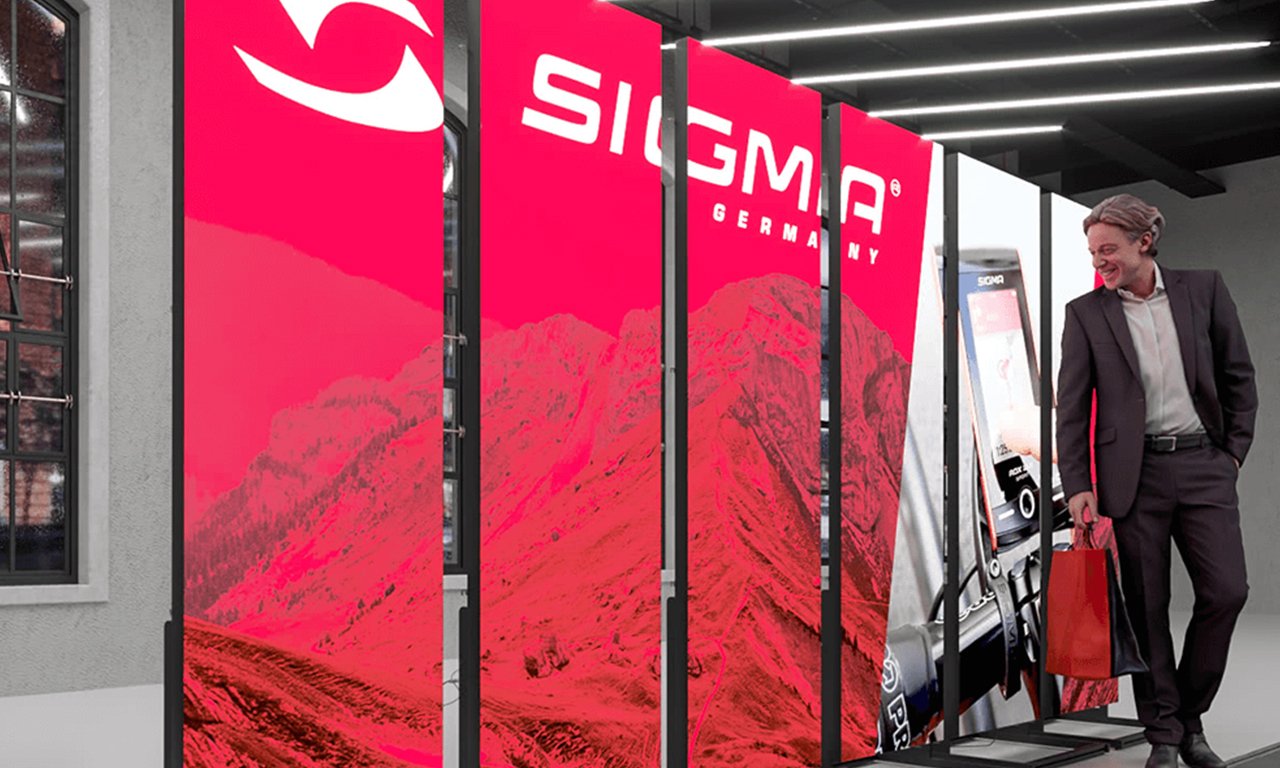 3)Multiple forms of installation, flexible and convenient
      LED poster screens can also be installed in different forms to meet the application requirements of different scenarios. For shopping mall applications, standard vertical installation can be adopted. Open the hidden bracket on the back of the product and it can be used directly. It opens in 1 second, which is convenient and fast; for restaurants, hotels and other scenarios, floor-mounted installation can be used, and standard vertical stand is optional. can be easily moved afterwards. You can also add personality with creative stitching.
4)Easy maintenance, peace of mind and convenience
       Another advantage of LED poster screens is that they are easy to maintain and save time for installation and disassembly. In specific occasions, it can provide faster installation time and installation speed, effectively promoting sales opportunities. With such convenience, the LED poster screen has really become the correct display device needed for promotion and dissemination . At the same time, there is no need to remove the protective layer for front maintenance of the module, and the design of the system box is also extremely user-friendly, which can be opened without tools in 1 second. If a fault occurs during use, it can be maintained in a timely manner without complicated disassembly of the product's internal unit.
3.Application Scenarios of LED Poster Screen
      The LED poster screen has a simple structure and is easy to operate, and is used for advertising, information release and product display. Now let's take a look at some application scenarios of common LED poster screens .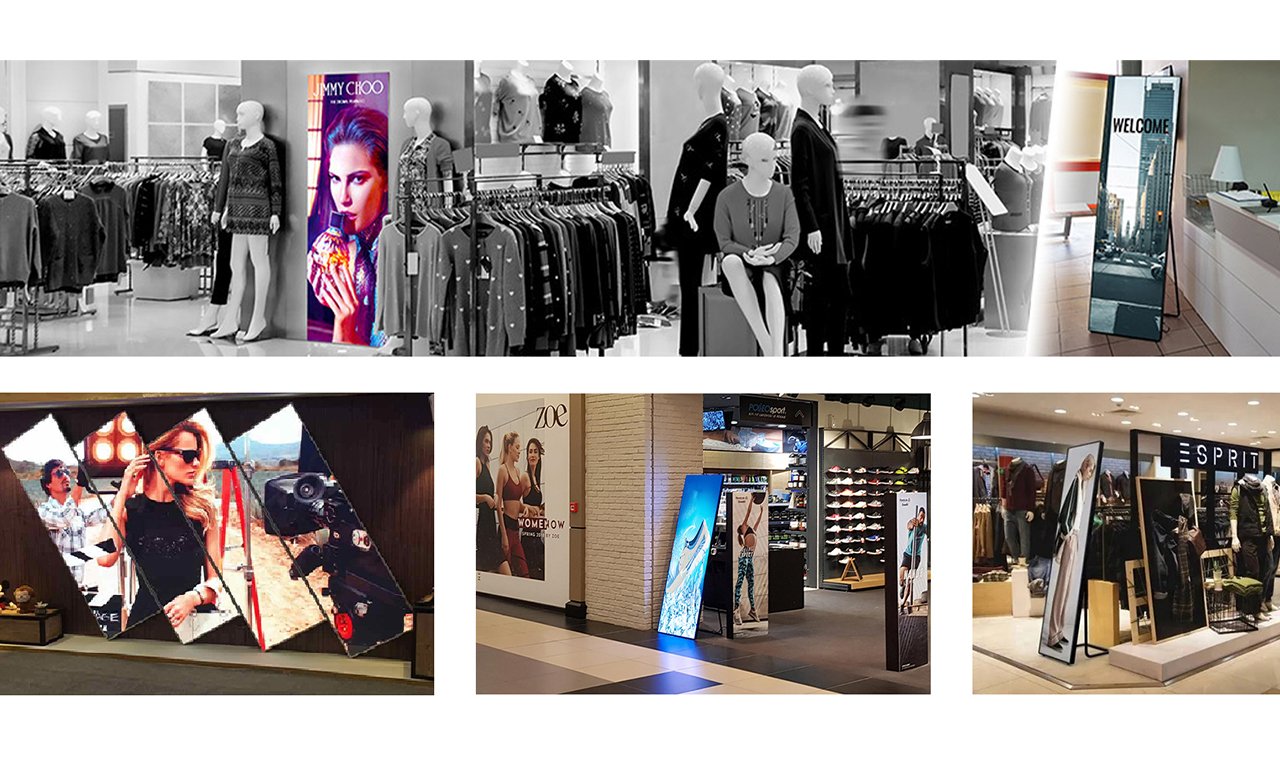 (1)Counter display
      For the scenes of specialty stores and special counters such as clothing and shoe cabinets, the LED poster screen can be hoisted, which is stylish and simple, eye-catching, and fully enhances the quality of the counter. In terms of information display, the LED poster screen can realize information push and remote scheduling, and the application is more convenient and faster.
      In addition, the LED poster screen can also realize the intelligent display of information such as the brand background, product promotion, and new product launch of the counter store, further focusing on consumers' attention and improving the popularity of the counter. The dynamic content display can also focus on consumers' attention and enhance consumers' shopping experience through more impactful and shocking visual effects.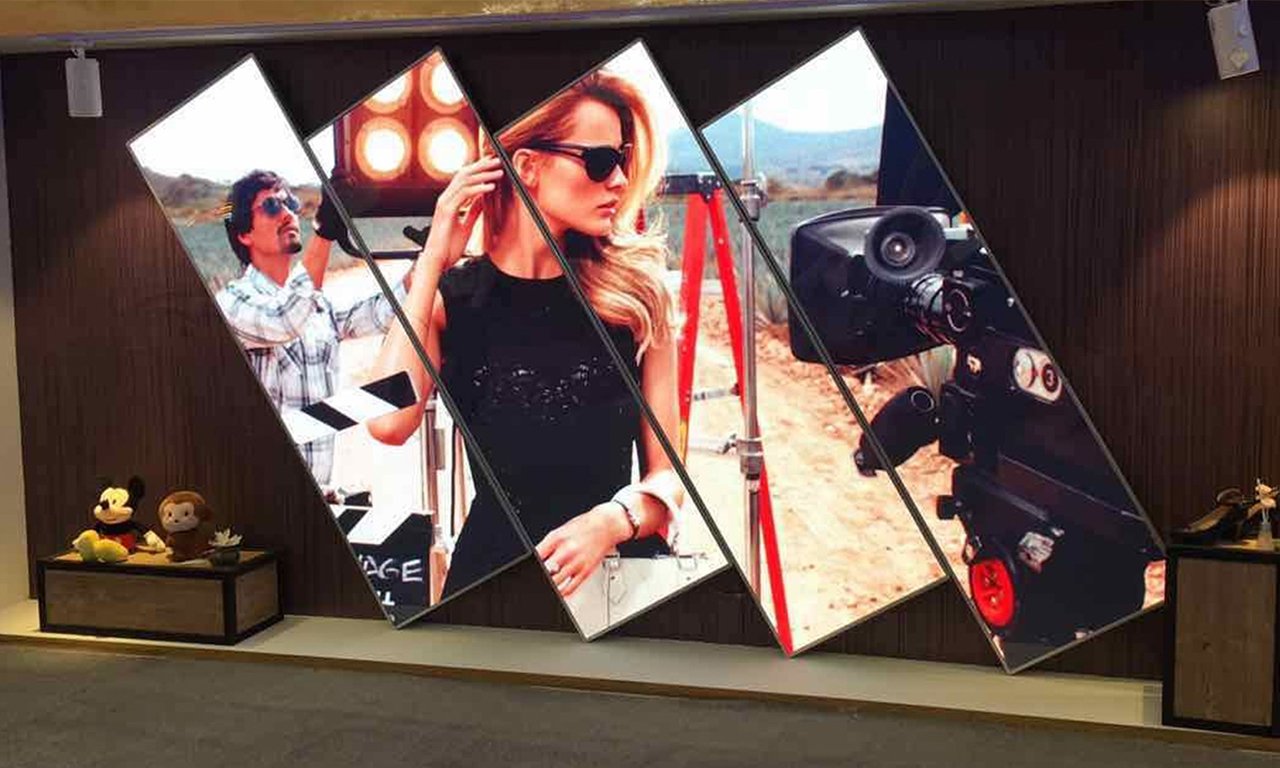 (2)shopping center
      The standard vertical installation of the LED poster screen can be directly applied to various areas of the shopping center. At the same time, the poster screen can scroll to present information such as new product launches, discount promotions, point redemption, and event preheating, which is convenient for consumers to establish a clear understanding. Bring consumers a more intuitive and shocking visual experience.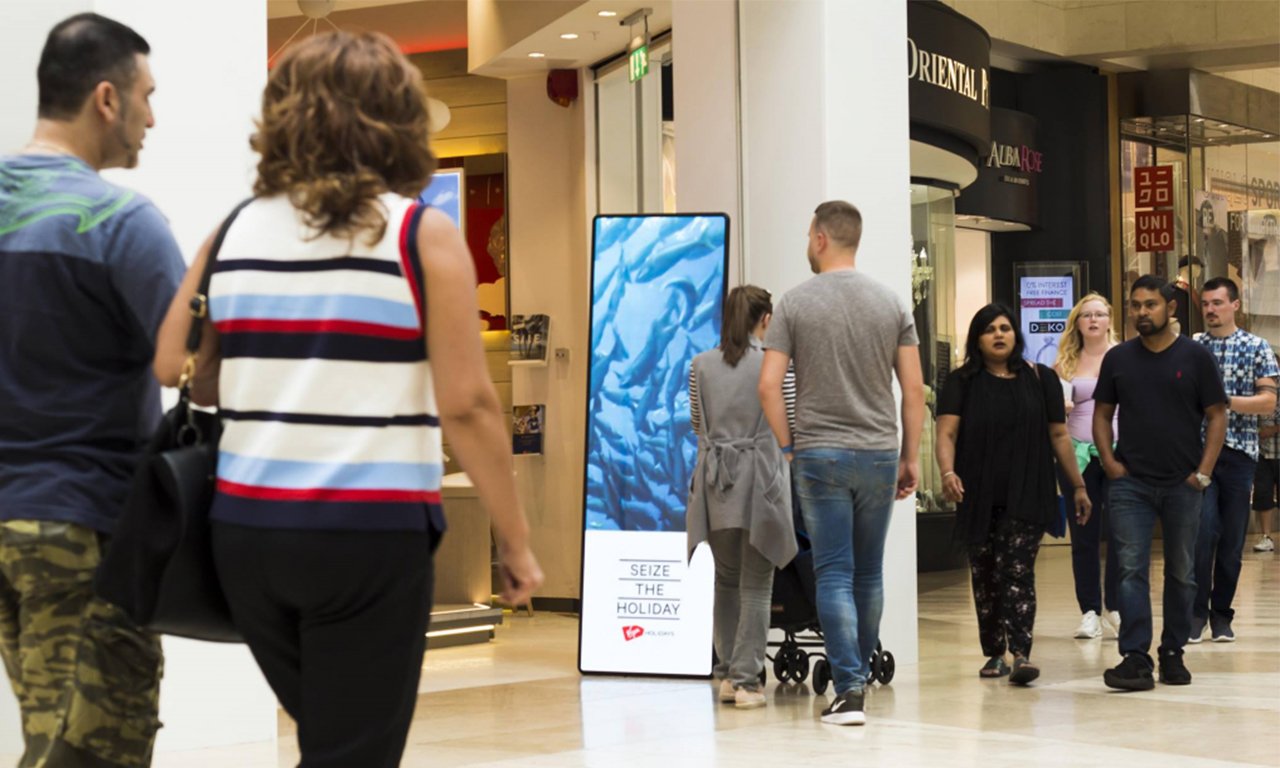 (3)Event venue
      Business meetings are an integral part of today's era. Investment promotion meetings, channel meetings, press conferences, industry exchange meetings, and strategic cooperation meetings are common occurrences. Organizers usually hope to achieve their own business goals through business meetings, such as signing cooperation, new product exposure, business cooperation, etc. In this scenario, LED poster screens can also play an important role.
4.What can LED poster screen bring to you?
      LED poster screen is an indispensable advertising tool in the bustling streets and commercial centers of modern cities. Through its high brightness, wide application, flexibility, fast and complete completion, convenient installation, space saving and advertising protection reliability, it can better promote enterprises Brand image and popularity, to achieve the maximum display of visual impact and advertising effect.
Highlight the brand image
      Brand image is crucial to the development of an enterprise, and the poster LED display can make the advertisement more prominent and better display the brand through its large-area and high-brightness picture effect. At the same time, the poster LED display can also make the company and brand stand out visually from other similar companies, bringing higher visibility and unique image to the company.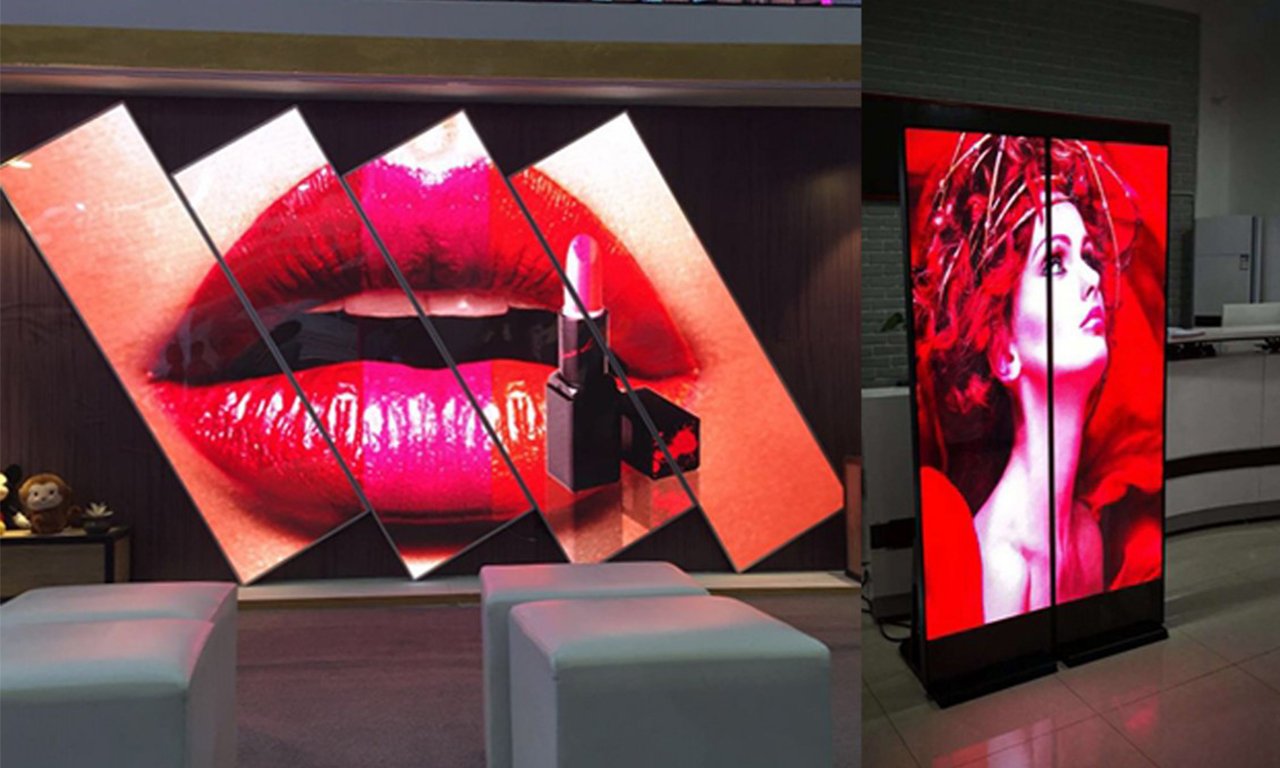 Improve advertising effectiveness
      The high brightness and high definition of the poster LED display can produce visual impact on landmarks such as parking lots, office buildings, and office buildings. This strong visual effect can quickly attract people's attention, achieve better advertising effects, and increase brand awareness and product sales.
Fast and successful completion of advertising
      Advertising on poster LED screens is a direct poster delivery, omitting the process of poster making and painting. In real life, the initial printing and placement costs are very high, and the exposure rate of the posters after they are put on the shelves is good, and the overall input-output ratio is also quite good, the operating cost is relatively small, and the placement effect is relatively ideal. In addition, the maintenance cost of the poster LED screen is also very low, and the playback content and time can be controlled and adjusted according to the actual situation, which is flexible.
Easy to install and save space
      Poster LED screens are very convenient to install. They can be released directly with backlight, without the need for complex wall and steel frame structure installation, which reduces the use of steel poles and increases the space occupied by installation equipment. It is far superior to the traditional billboard installation method. The installation and commissioning can be completed in a short time, saving construction time and cost. At the same time, the volume of the poster LED screen is relatively small, and the use of space is more efficient, and it will not cause too much impact on the building itself, making the advertisement more environmentally friendly.
5.LED poster screen provided by EagerLED
      EagerLED EA1920MP is a multifunctional logistics LED poster screen, which can be used indoors/outdoors. The specifications of the LED display 640x1920mm poster LED board can be customized according to your needs.
Why Choose EA1920MP LED Poster Display
      Easy to move: There are four wheels on the bottom of the multifunctional LED poster screen stand, allowing you to quickly move from one location to another without using any tools or equipment.
      Multiple splicing: the multifunctional LED poster screen can be used independently. Multiple single poster screens can also be quickly combined into a larger screen for wider use.
      Adjustable Bracket: The multifunctional LED poster screen bracket can be easily adjusted from 80 degrees to 90 degrees to meet various viewing angle needs.
      Quick combined installation: Three 640×640mm rental screens or fixed screens can be quickly assembled into a multi-functional poster screen.
      EagerLED indoor LED poster screen 640×1920mm EA1920iP2 front service LED specifications can be customized according to your needs. The LED display screen has a simple structure and is easy to operate, and is widely used in advertising, information release and product display.
Why Choose EA1920iP2  LED Poster Display
      Ultra-thin: EA1920iP2 LED poster screen cabinet standard size series LED display adopts ultra-thin cabinet design, the thickness is 60mm. The die-casting aluminum box design is light and easy to transport, with good flatness and no gaps.
      Multi-screen splicing : EA1920iP2 LED poster screen is equipped with link lock. After locking, multi-screen seamless cascading can be realized to realize large-screen display. The poster LED display can be played as a large screen, or it can be played alone.
      Free Movement: The EA1920iP2 LED poster screen base is equipped with 4 wheels, which allow the poster LED screen to rotate freely and allow free movement in all directions.
      Intelligent cloud management : EA1920iP2 LED poster screens support synchronous & asynchronous control systems, and can update the content of the LED screen through ipad, mobile phone, PC, and notebook, play in real time, and publish across platforms. Support USB or WIFI, support IOS or Android device operation. Support built-in media player to store and play content.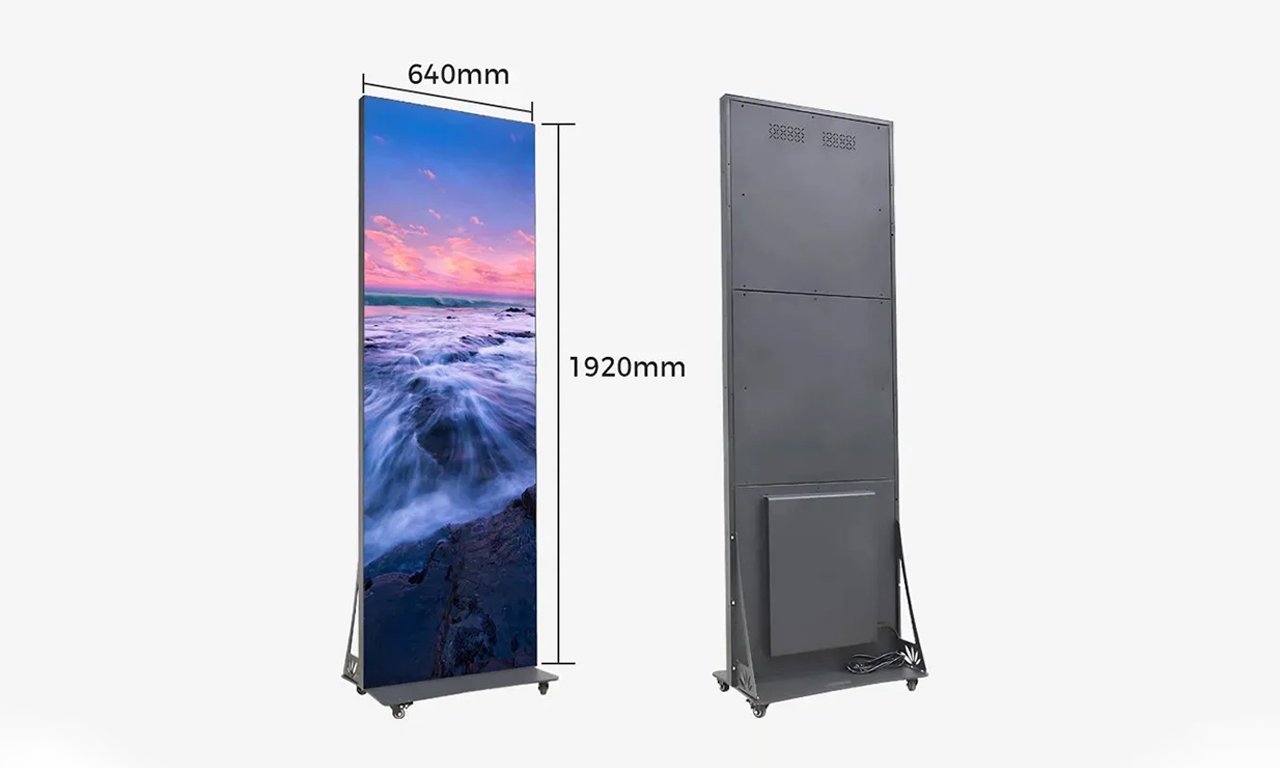 EagerLED LED poster screen adopts frameless structure design, with narrow or no frame. This design can maximize the coverage area of the image. It can make the picture more perfect and delicate, and enhance the viewing experience. At the same time, the frameless design can also increase the visual impact, making the advertisement more conspicuous and achieving better results.
      This article introduces the LED poster screen in detail. The LED poster screen is portable, light and easy to move, suitable for various occasions. If you are looking for this product, you can contact us for the corresponding LED display solution.