With the continuous advancement of technology, church LED screens have become an important part of many religious institutions. Not only do they provide visual enjoyment and a sense of engagement, but they also have the ability to deliver divine messages through creative content, making believers more engaged and engaged.
      In this article, I will introduce the main points of church LED display to everyone!
1.What is Church LED Display
      Church LED display is an indoor display device for churches, which uses LED (Light Emitting Diode) technology to present images, text and video content. It consists of multiple LED panels arranged in a grid to form a seamless large screen. Church LED video walls are becoming more and more popular because of their bright and dynamic features, and become an effective way to attract people into the church.
      The church LED video wall has high brightness and flexible installation methods, so the display content in the church is very realistic. Whether it is worship lyrics, Bible verses, sermon notes or announcements and other multimedia content, they can be displayed vividly through the LED screen. It delivers high-quality visuals that enhance engagement and experience.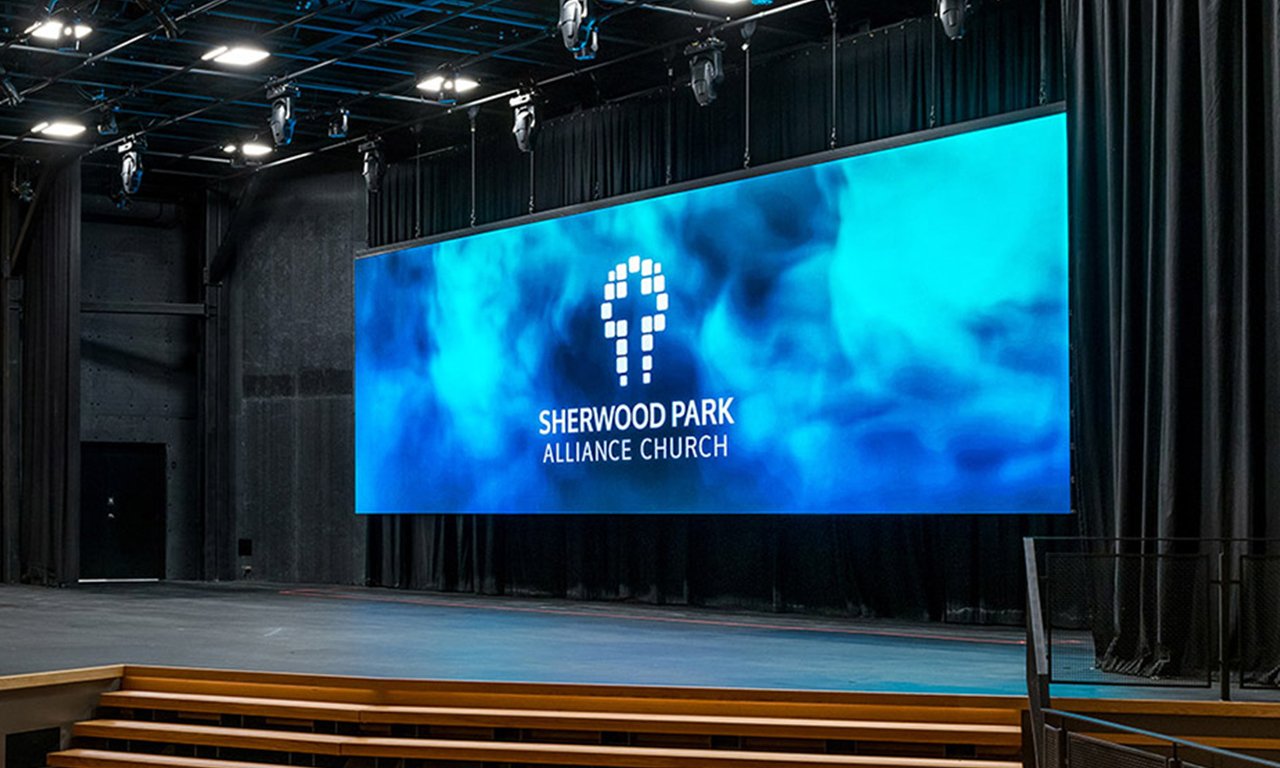 2.Benefits of Church LED Video Walls
      1)High brightness: The church LED display has an excellent brightness level and can still be clearly seen in a bright church environment. Whether it is direct sunlight during the day or dark lighting at night, the high brightness of the LED display ensures that the audience can easily read and understand the content on the screen. This is critical for displaying texts of religious iconography, Bible verses and songs.
      2)Flexible installation: Church LED display can be flexibly installed according to the layout and needs of the church. Whether wall-mounted, screen-hung or ground-mounted, LED screens can be installed in a variety of ways to meet the space and design requirements of a church. The flexible installation method also enables the church to choose a suitable location to display the content, so that every church member can watch it conveniently.
      3)Low operating cost: Church LED display has the characteristics of low power consumption and high efficiency, making its operating cost relatively low. At the same time, its long life and stable performance can also reduce energy consumption and maintenance time, further reducing operating costs.
      4)Durability: The church is a place for long-term use, so the durability of the LED display is very important. The church LED screen is made of high-quality LED chips and materials, which has a long service life and reliable performance.
      5)Multi-function: The church LED video wall can not only display text and images, but also play video and audio content to enrich the church service. This versatility allows the church to display content more flexibly, including religious iconography, speeches, song lyrics and religious videos. By combining the audio system, the LED display can provide a more exciting audio-visual experience for the church's worship activities.
3.Church LED screen application
1.Indoor Church LED Display
      In the interior of the church, the installation of LED display screens can be used to display Bible verses, poetry lyrics, religious stories, etc., to help believers better participate in ceremonies and worship. Whether it is an LED screen on the grandstand or a large screen mounted on the wall, it can provide a clear and bright picture for better reading and comprehension by parishioners. In addition, the LED display can also be used to play worship music, religious videos, etc., adding audio-visual effects during the worship process, and bringing a richer worship experience to the faithful.
      EagerLED's indoor fixed LED display screens are available in P1, P1.25, P1.37, P1.53, P1.66, P1.86, P2, P2.5, and any size can be customized according to your needs.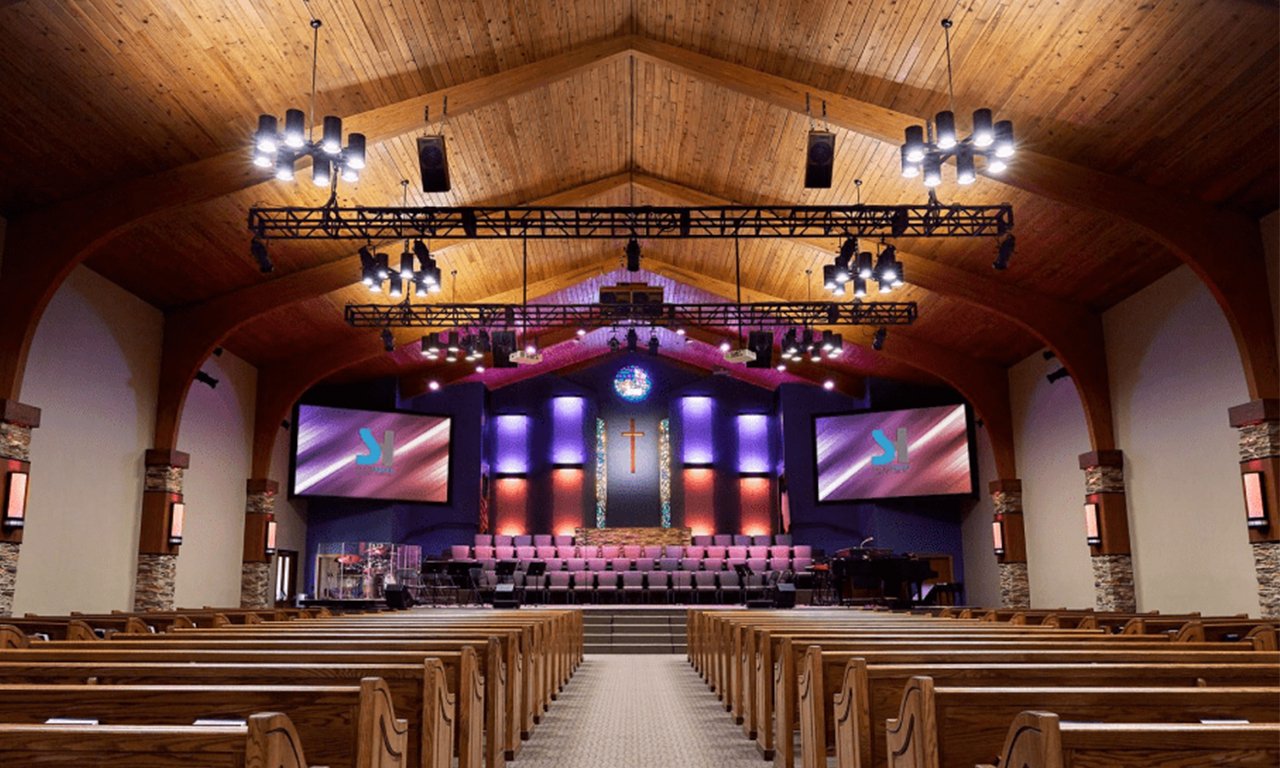 2.Stage LED screen
      The rental LED video wall is set up on the indoor and outdoor event stages, which can be used to play the speaker's graphic materials, speech outline and supporting images. This can not only increase the effect of the speech, but also help the audience understand and remember the content of the speech more intuitively , making the performance more vivid and exciting.
      The stage LED display provided by EagerLED can be quickly disassembled and installed, and is convenient for transportation. You can move the display to a different location at any time for church outreach, community events and more.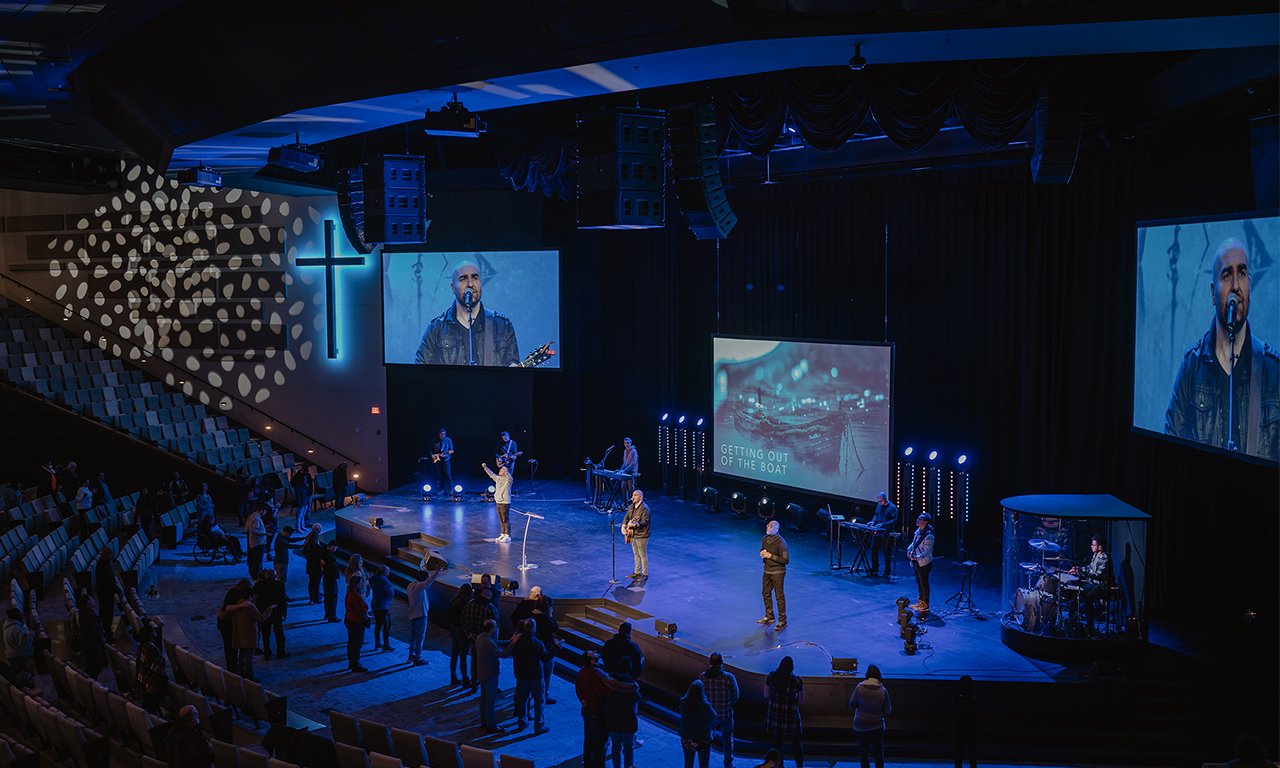 3.Outdoor church LED sign
      The outdoor entrance of the church is the first threshold for believers and visitors to enter the church, so setting up outdoor LED billboards at this location can play a role of publicity and welcome. An outdoor LED display screen is set up at the entrance of the church , which can be used to broadcast the church's event information, worship time, sermon themes, etc., and introduce the latest activities and news to everyone in time.
      EagerLED outdoor LED billboards can display your information 24/7 hours, with a long service life and work outdoors around the clock.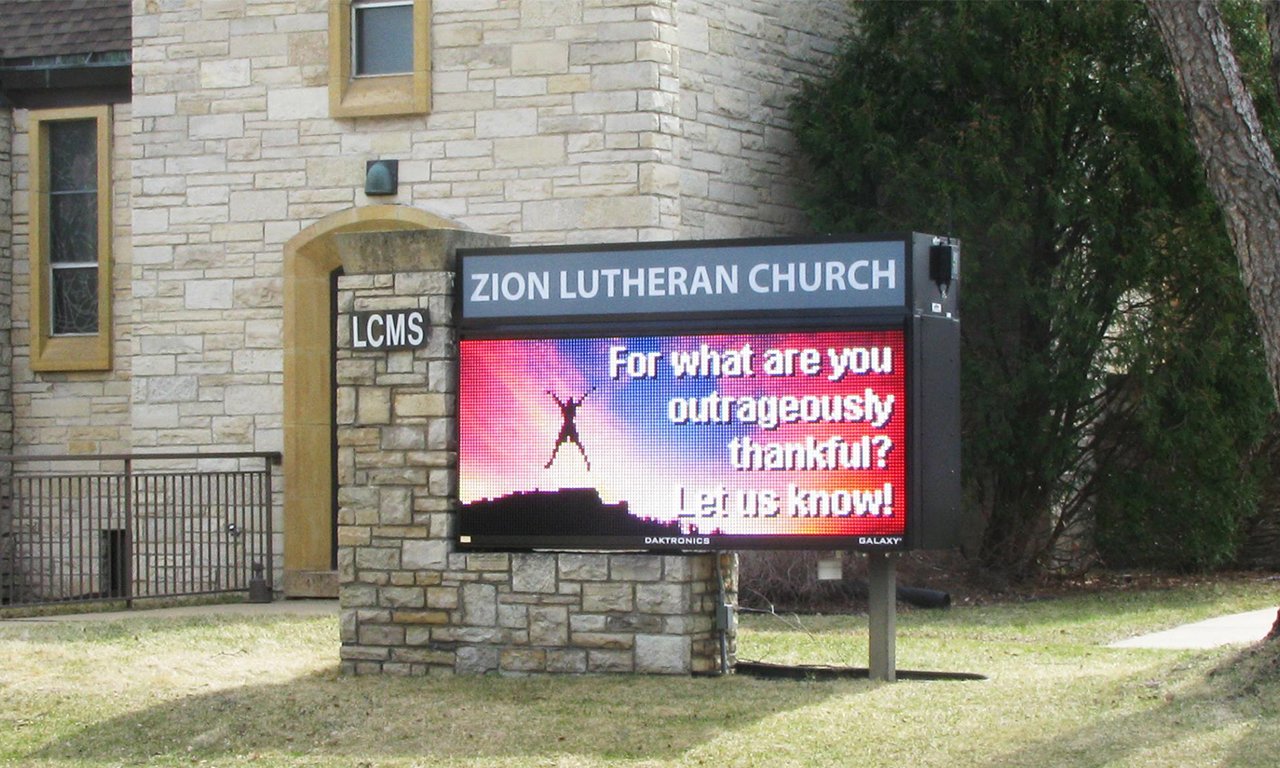 4.What content can be displayed on the church LED screen?
      The church LED screen can display a variety of content to meet the needs and purposes of the church , and bring richer and more vivid religious experience to the faithful.
1.Church advertisement
      Churches can utilize LED screens to display advertisements for various church events, community projects, and charity events. By setting up LED displays at the entrance of the church or other conspicuous places, the church can attract more people to understand and participate in the activities of the church.
2.Worship lyrics and hymns
      Church LED screens can display worship lyrics and hymns to help congregants better follow worship and sing praises. With clear and bright displays, congregants can more easily remember the lyrics and participate in worship.
3.Bible verses
      Church LED screens can display Bible verses, making it easier for pastors or evangelists to quote Bible verses and help congregants better understand and memorize the content of the scriptures. This also provides convenience for preaching, making the message more vivid and intuitive.
4.Sermon Notes and Diagrams
      Church LED screens can display sermon notes and diagrams, allowing preachers to better display and explain information. Through the combination of diagrams, images, and text, preachers can more vividly present teachings, stories, and practical applications to enhance educational effectiveness.
5.Announcements and notices
      Church LED screens can be used to display announcements and notifications, including church activities, community services, volunteer recruitment, donation information, etc. Through prominent displays, parishioners can more easily access the latest information and participate in church and community activities.
6.Multimedia content
      The church LED screen can display multimedia content, such as pictures, videos and slideshows . This can be used to display promotional videos, testimonial sharing, storytelling, audio-visual dramas, etc., through visual and auditory dual sensory stimulation, to provide richer and more vivid educational and entertainment experiences.
5.EagerLED Church LED Display
      EagerLED is committed to providing professional LED displays for churches, helping churches realize multiple functions such as information transmission, publicity and promotion, and live performances.
(1)Full front desk service
      The EA640F2 indoor LED display adopts a full front maintenance design, and the LED display module, power supply and control card can be easily replaced by the front. This design provides users with convenient maintenance operations, which greatly saves time and labor costs.
(2)Light and thin cabinet
      The EA640F2 indoor LED screen is only 60 mm thin and weighs only 7.5 kg. This makes the LED display very convenient during transportation and saves labor costs. At the same time, its lightweight design also makes installation, assembly and disassembly very convenient.
(3)Golden ratio cabinet design
      EA640F2 LED video wall adopts 4:3 golden ratio cabinet design. This design is not only beautiful and elegant, but also makes the display screen more visually attractive, which is very suitable for various occasions such as business exhibitions, conference speeches, and indoor background walls.
(4)Indoor HD
      EA640F2 series LED display is specially designed for indoor fixed installation applications. It can be used with P1.25, P1.53, P1.86, P2, P2.5 and other small-pitch models to achieve excellent 4K visual performance.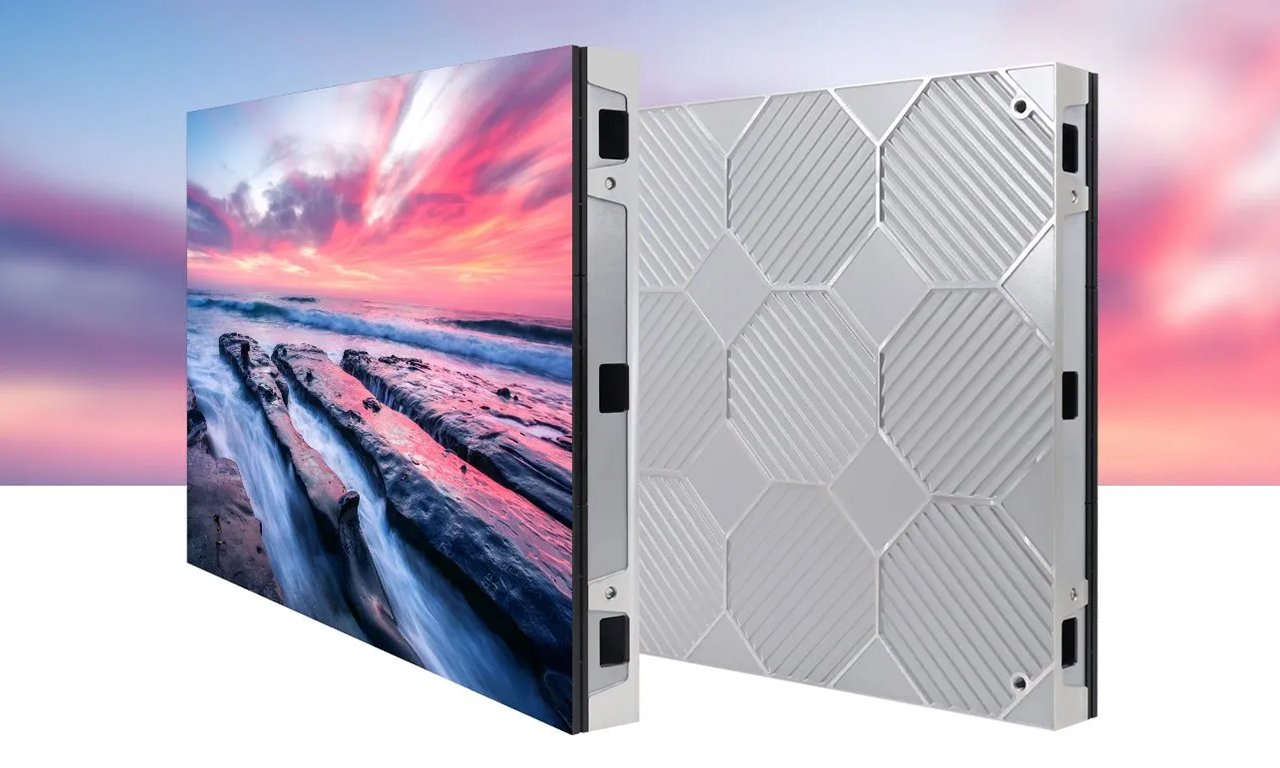 1.Double quick lock design
      EA500H3 stage rental LED screen adopts double quick lock design, which is convenient and quick to install and disassemble, ensuring better screen flatness.
2.LED corner design
      Each corner of the EA500H3 stage rental LED display has four corner guards to prevent LED damage, and the foldable design is safer for transportation, installation, operation, assembly and disassembly.
3.Lightweight, ultra-thin design
      The box body is made of die-cast aluminum, and the ultra-light and ultra-thin design can be carried by one person with one hand, which is very convenient. At the same time, this design can also be quickly installed, disassembled and transported, saving labor costs.
4.Openable rear cover for easy maintenance
      The EA500H3 stage rental LED screen has an openable back cover design, which is convenient for users to maintain. This design greatly simplifies the maintenance process, reducing time and labor costs.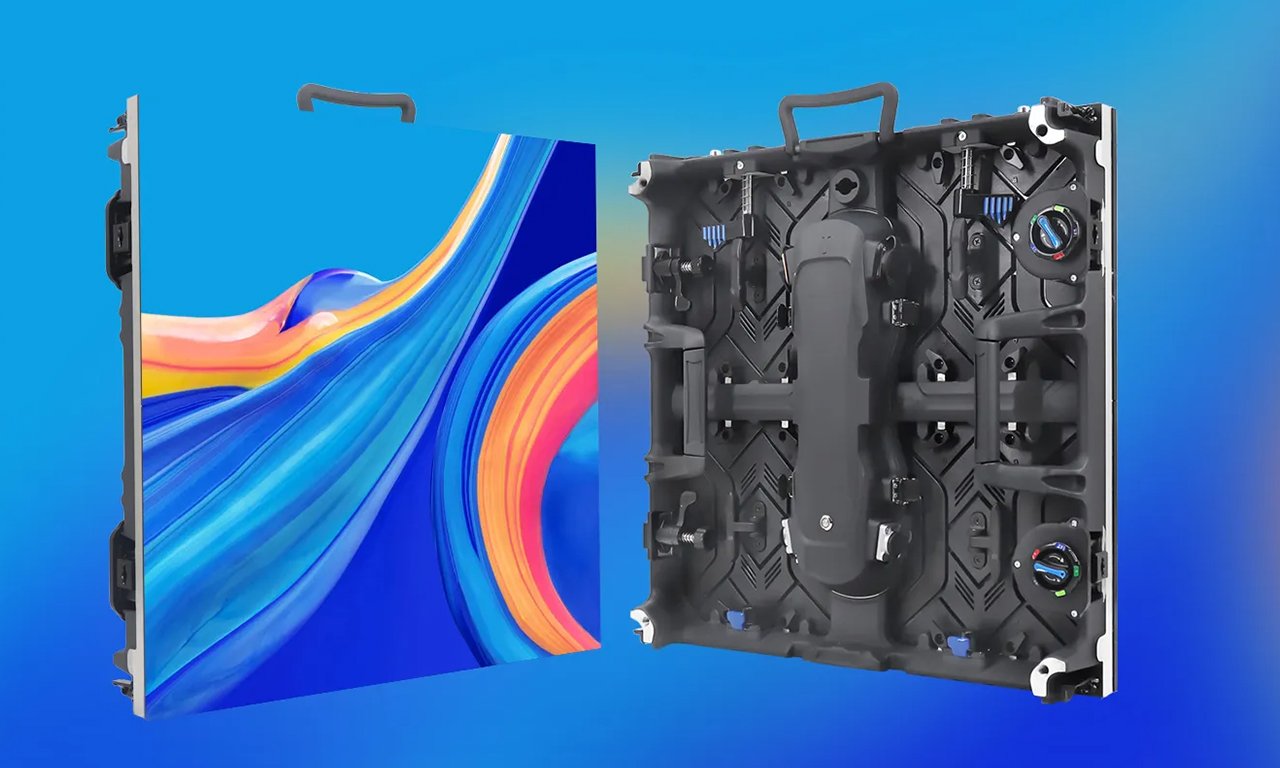 1.Full Frontal Outdoor Maintenance
      The EA250F outdoor LED advertising screen adopts a comprehensive front outdoor maintenance design. Users can easily repair and replace modules, power supplies, control cards and other components without disassembling the entire screen. This design greatly simplifies the maintenance process, reduces time and labor costs, and improves maintenance efficiency.
2.Efficient cooling
      A high-efficiency cooling system is adopted, and there are 4 airfoil fans in each cabinet, so that the EagerLED outdoor LED display can be cooled immediately, effectively reducing the operating temperature of the screen, and ensuring the normal operation of the entire system.
3.Working outdoors around the clock
      With EagerLED's unique protection technology, the LED display is guaranteed to work normally in any weather conditions. It has a high degree of protection and offers durability, reliability, UV resistance and consistent performance.
4.More size options
      The screen size can be customized according to the 250x250mm module: 500x1000mm/1000x500mm/1000x1000mm, a variety of sizes to meet your screen size needs.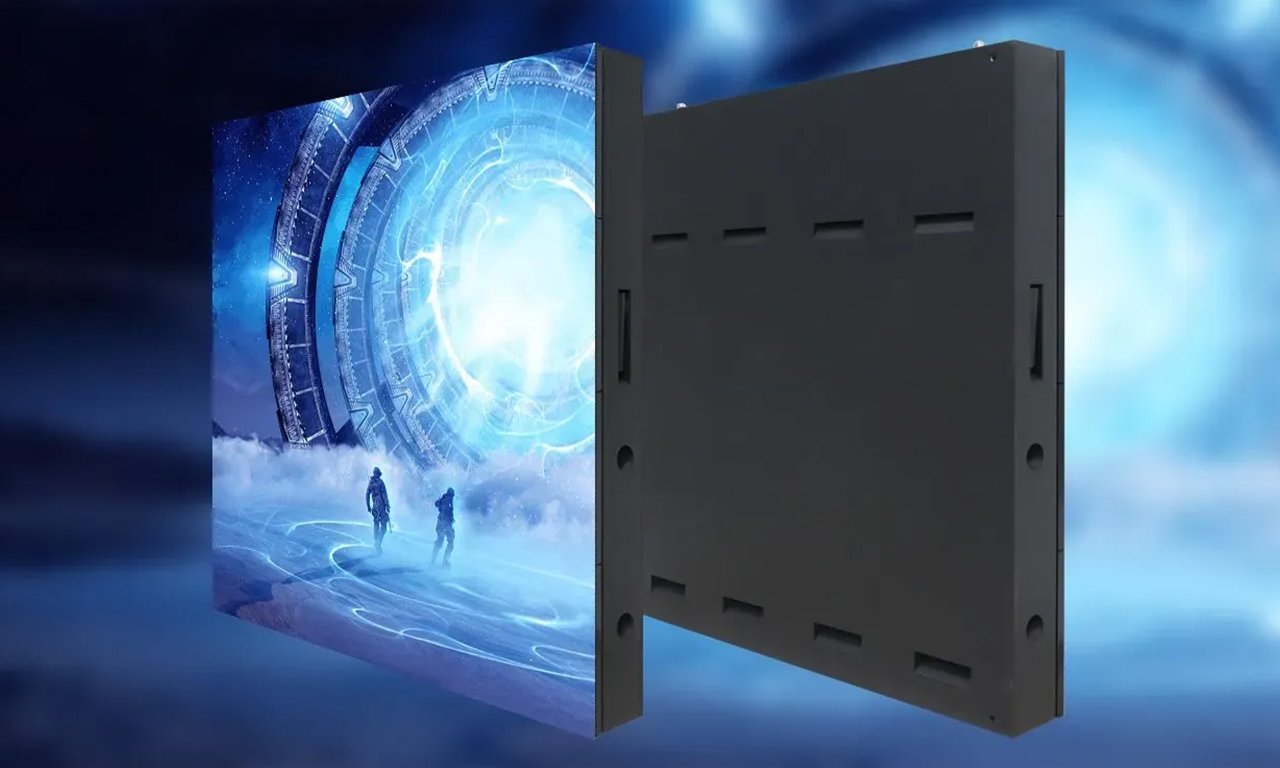 EagerLED can provide you with the best LED display according to the display requirements of your church screen. If you are looking for church led screens , you can contact us for the corresponding LED display solutions.